IN 2018, a Manitoba RCMP criminal analyst noticed some trends regarding the international importation of drugs into Canada. When investigators realized they were onto a large-scale domestic operation, Project Divergent was born.
Through intelligence-led policing, the police uncovered a significant Canada-wide operation involving the trafficking of illicit drugs and firearms. The objective of the RCMP was to infiltrate the target groups and dismantle the drug trafficking and importation networks that involved individuals across Canada and internationally, according to Manitoba RCMP.
Multiple police techniques were used to infiltrate the networks, and investigators began to see large-volume transactions happening with cocaine, methamphetamine, opiates, specifically fentanyl, and assault-style firearms and ammunition. A connection with the Hells Angels was discovered.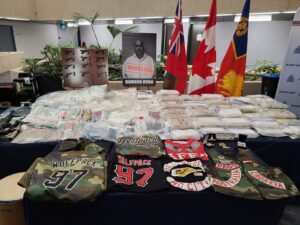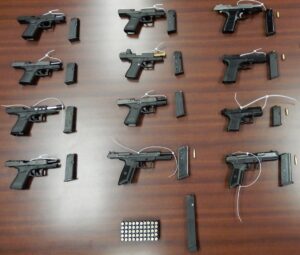 On February 23, Damion Ryan, a full patch Hells Angels member with the Attica chapter in Greece, was arrested in Ontario, which was a huge disruption to the supply chain of drugs and guns that he helped facilitate.
[Damion Ryan was one of six gangsters with links to Vancouver whose photos, names and ages were released to the media by Vancouver Police in May 2021. Vancouver Police said they posed a significant risk to the safety of the public. Vancouver Police Chief Adam Palmer at the time said: "Our police intelligence leads us to believe that the individuals we have identified today may be targeted by rival gang members. My greatest concern right now, related to the ongoing gang violence, is that an innocent bystander will be hurt or killed during a shooting targeting a gangster."  His name was also included in the list of 11 individuals involved in the Lower Mainland Gang Conflict that the Combined Forces Special Enforcement Unit of British Columbia (CFSEU-BC) announced the next day as it also issued a public warning that these individuals posed a significant threat to the public.]
[Police sources told The VOICE that the three charged from B.C., Kelvin Lee Nelson, 27, from Burnaby, Mazin Nzar Zandy, 24, from Burnaby, and Denis Ivziku, 24, from the Lower Mainland, are all connected to Ryan who is the alleged leader of the Wolf Pack — some members of the Hells Angels, the Red Scorpions and the Independent Soldiers who form this distinct group.]
Through different means from various targets, Project Divergent officers seized:
110 kilos of cocaine
41.4 kilos of methamphetamine
3 kilos of fentanyl
.5 kilo of MDMA
14 handguns
5 assault-style rifles, and
More than $445,000 in Canadian currency
In total 22 individuals were charged as part of Project Divergent.
Officers arrested:
Enrico Funk, 29, from Freidensruh, Manitoba
Artjom Gotting, 32, from Winnipeg, Manitoba
Nathaniel Cabal, 31, from Winnipeg, Manitoba
Trinh Ducthang Dinh, 31, from Winnipeg, Manitoba
Zuhair Mohammad-Zarif, 27, from Winnipeg, Manitoba
Jesse James Whyte, 26, from Winnipeg,Manitoba
Damion Patrick Ryan, 41, from Ottawa, Ontario
Kelvin Lee Nelson, 27, from Burnaby, BC
Mazin Nzar Zandy, 24, from Burnaby, BC
Andre Omar Steele, 41, from Winnipeg, Manitoba
Brittany Girardeau, 28, from Winnipeg, Manitoba
Albert Theodore Jansen, 39, from Winnipeg, Manitoba
Sharon Jonatanson, 66, from Libau, Manitoba
Scott Matthew Jonatanson, 27, from Libau, Manitoba
Caitlin Jones, 22, from Winnipeg, Manitoba
Owen James Quesnel, 33, from Winnipeg, Manitoba
William Solomon Gooding, 24, from Winnipeg, Manitoba
Brian Christopher Yakimoski, 28, from Winnipeg, Manitoba
Jeffrey David Gaudet, 32, from Winnipeg, Manitoba
Dylan Durval South, 28, from Winnipeg, Manitoba
Two individuals are still at large and are wanted by police:
Kieffer Michael Kramar, 30. He is from Winnipeg, but police believe he could be anywhere in Canada.
Denis Ivziku, 24, from the Lower Mainland of British Columbia. It is believed he is still in that area.
Both these individuals are actively evading arrest. If anyone has information, you are requested to call RCMP at 204-983-5420.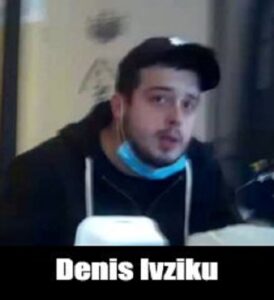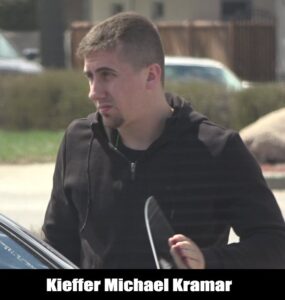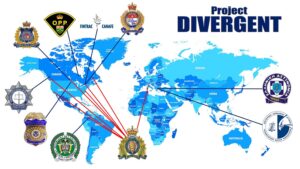 "As we have seen in this province and in this country, deaths due to opioid overdose have been staggering," said Inspector Grant Stephen, Officer in Charge of the Federal, Serious, and Organized Crime Section. "Project Divergent disrupted the supply chain and took these drugs off the street. The utter disregard for human life shown by those involved in these networks, specifically those at the top of the chain, became very clear during this investigation, and we were able to take them out of the equation."
"This operation began right here in Manitoba and reached from Vancouver to Toronto, to Colombia, Greece, and the United States," said Assistant Commissioner Jane MacLatchy, Commanding Officer of the Manitoba RCMP. "The scope and success of Project Divergent was possible because of the tenacity of our investigators and the incredible and unfailing support of our partners. We could not have done this without them."
The partners who assisted the Manitoba RCMP in Project Divergent are:
Combined Forces Special Enforcement Unit of British Columbia
BC RCMP
Quebec RCMP
National Division RCMP in Ontario
RCMP Liaison Officers in Bogota, Colombia; Rome, Italy; Washington; and Los Angeles
Winkler Police Service
Homeland Security Investigations out of Grand Forks, North Dakota
Ontario Provincial Police, Biker Enforcement Unit, which also includes officers from the Ottawa Police Service
Colombian National Police
Hellenic Police in Greece
Health Canada
Financial Transactions and Reports Analysis Centre of Canada (FINTRAC)
Forensic Accounting Management Group (FAMG)
Public Prosecution Service of Canada
ALSO READ:
Knowah Truth Ferguson sentenced in attempted murder of Hells Angel Damion Ryan