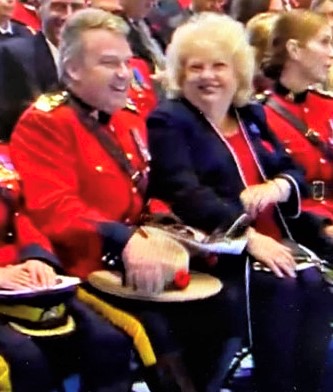 Make no mistake about it: NDP will lose massive support in Surrey if the RCMP remains in city
SURREY Mayor Brenda Locke, who won only 28 per cent of the total vote in this year's municipal election, shamelessly keeps bulldozing her way at the instigation of her buddy, Surrey RCMP's officer in charge Assistant Commissioner Brian Edwards, and his RCMP gang to mock the vast majority of Surrey-ites (72 per cent) who did not vote for her 'keep the RCMP in Surrey' agenda.
The City presented a plan on Monday in Council to reverse the police transitioning in Surrey with a hole as big as a galaxy about hiring enough officers for the RCMP to fill the current gap in officers.
Edwards brazenly claimed that he had 573 operational RCMP officers and that he needed 161 officers whom he could get by the end of 2023 – even though he knows that 275 of 293 SPU frontline officers of Surrey Police Service officers have pledged not to work in the toxic RCMP atmosphere.
As The VOICE  has repeatedly pointed out, former mayor Doug McCallum won the election in 2018 with 45,564 votes — 41.08% of the total votes — to kick out the RCMP from Surrey whereas Locke  won with only 33,311 votes — 28.14% of the total votes to keep the RCMP in the city.
Yet, in spite of that massive mandate that McCallum garnered, Locke and her buddy Jack Hundial as RCMP poodles used every trick in the book to sabotage the police transitioning in Surrey.
They – with the support of a section of the dishonest mainstream media – even spread doubts about McCallum's innocence in the public mischief case that the RCMP brought against him in total violation of any ethical or professional standards. Many did not vote for McCallum and his Safe Surrey Coalition because of this fake propaganda.
Also, the City's puppets under Locke are still desperately trying to fudge financial figures after Surrey Connect made the claim that keeping the RCMP would save residents $520 million over the next four years.
The RCMP made sure that their supporters, whose raucous, bullying behaviour is well-known to all Surrey-ites, were present at the Council meeting to cheer on Edwards. Do Surrey-ites really want this kind of an atmosphere in our multicultural city?
Solicitor General and Public Safety Minister Mike Farnworth MUST reject this baloney plan by Locke and Edwards.
The NDP government will lose massive support among South Asians and others in Surrey if they reverse the police transitioning.
The reversal will also endanger public safety in the City because the majority of residents – and the vast majority of South Asians – have made it clear that they do NOT want the RCMP in Surrey.
VOICE opinion column