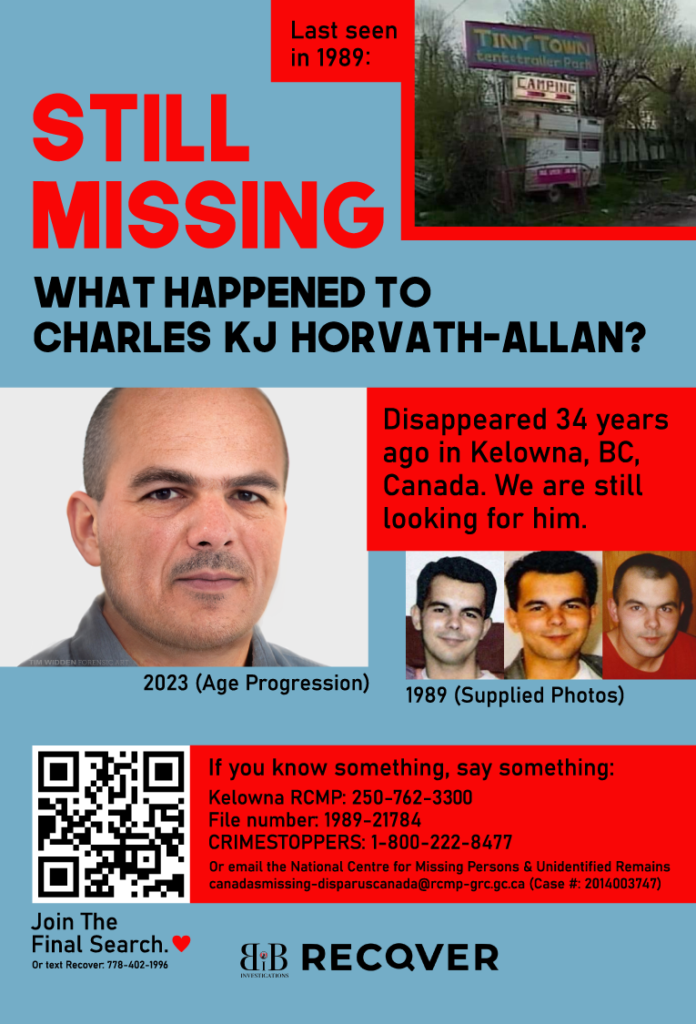 LAST month, Charles Horvath-Allan would have celebrated his 55th birthday—if he is still alive. That question still haunts his mother, Denise Allan, who has spent decades searching for her son.
Born in Ontario and raised in the UK, 20-year-old Charles came to Canada in the spring of 1989 to visit family and hitchhike across Canada – and then, suddenly, he stopped calling home.
"We were very close, and he never dropped out of contact. I knew immediately—mother's instinct—that something was very wrong," said Allan. 
His belongings including a tent, clothing, and photos were found abandoned at a campsite, Tiny Town, in Kelowna. He has not been seen since.
Since then, Allan, who is based near London, England, has visited Kelowna around 15 times to look for him. "Searching for Charles has become my full-time job over the past 34 years," said Allan, who is now 73.
Allan now has the support of Recover Agency, a Vancouver-based boutique media agency that specializes in bringing cold cases to the media, who has taken on the case pro-bono.
"Unfortunately, due to my health I am unable to come to Canada this year, but I have Anna and Samantha from Recover on the ground taking care of all media activities and collecting information," said Allan.
On July 5, Recover launched a GoFundMe on behalf of Allan to fund a new age progression sketch, a text tip line, and expenses for a P.I. to travel to Kelowna to conduct interviews. The modest goal of $2,500 was exceeded within three weeks. The campaign is still open.
Part of the funds commissioned an updated age progression sketch by UK-based Forensic Artist, Tim Widden, who used photos of Charles and his family to create the image.
"Charles had an incredible likeness to his father when he was in his 20s, but unfortunately photos of his dad at Charles's current age were limited in number and image quality. There was only one usable photo of his dad, so I aimed to base the angle and expression of Charles's age progression to that, as I feel they would have aged similarly," said Widden.
"To produce the age progression, I selected a photo of Charles, upscaled it using AI, then manually changed the proportions of his face in PhotoShop to represent his current age. I then used donor images to add older skin textures and features."
While Allan said it was emotionally difficult to look at the new age progression sketch, she considers it imperative to renew the public's interest in the case.
"I want to thank each and every person who donated to the campaign because they are keeping my hope alive," said Allan.
The GoFundMe campaign hopes to raise even more funds for an independent investigation.
"This may well be my final search for Charles, and I want to do everything I can while I'm still here," said Allan.
Tips can be submitted to Kelowna RCMP: 250-762-3300 [Case # 1989-21784] or CrimeStoppers: 1-800-222-8477