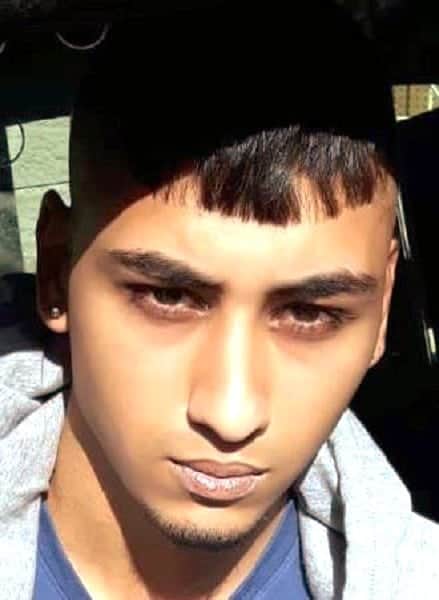 Abbotsford Police had issued a public warning about Gill on August 15
 BY RATTAN MALL
VARINDERPAL Singh Gill, 19, was shot dead in Mission on Wednesday night.
On October 3 at approximately 9 p.m., the Mission RCMP received numerous reports of a shooting at Mission Junction Mall at 32555 London Avenue.  When police arrived, they found Gill with gunshot wounds. He was pronounced dead at scene by emergency services. The Integrated Homicide Investigation Team (IHIT) was called in to take conduct of the investigation.
This is the 12th South Asian to be murdered this year in the Lower Mainland area. None of the murders has been solved.
The Abbotsford Police Department on August 15 had warned that Gill, who was involved in the gang conflict in Abbotsford and in the Lower Mainland, posed a significant risk to the public.
The APD said it believed he posed a serious risk to other gang members in the conflict. He was also at risk of violence by other gang members. Because many gang shootings occur in public places, this means Gill's presence in public places created a serious risk to public safety as well, they had warned.
Gill had been described as very tall and slim (6'2" and 165 lbs) by Abbotsford Police and often went by the name "VP".
Abbotsford Police Sgt. Judy Bird told The VOICE last August: "We've done this once before, which may be a message to the community as to how concerned we are with respect to this young man's behaviour as well as his actions within our community. That's what caused this concern."
Sgt. Bird said: "Our message is that we find this behaviour unacceptable. Our number one priority is the safety of this community … We are doing our investigation and you know what, unfortunately, sometimes the criminal justice system doesn't move as quickly as we want it – and that's a problem. But we continue to investigate and liaise with young people who are getting involved with this lifestyle or people who have a concern with it. So what we are asking you to do is that if you see him, call us – we will come. It's really that simple. If you are concerned, you don't have to say who you are – stay where you are, stay where he is, and we will come."
The VOICE had told Bird that community members said they were all terrified about an individual.
She said: "I know people are completely terrified. I get that, but us not saying anything at all is not helping."
Police said Gill had family in Abbotsford and was "very mobile."
ON Thursday (October 4), IHIT announced it is seeking public assistance to further its investigation.
IHIT said that on Thursday at 1:14 a.m., the Abbotsford Police Department was notified of a burning SUV in Bateman Park near Bateman Road and Wright Street.  Investigators believe this vehicle is connected to the homicide of Gill and would like to speak with anyone with information about it.
IHIT is working closely with its partners from the Mission RCMP, the Abbotsford Police Department, the Integrated Forensic Identification Services and the B.C. Coroners Service to gather evidence.
Gill was known to police and investigators believe this was a targeted incident.  IHIT is working to determine motive.
"This was a brazen shooting in a busy shopping complex and those responsible showed absolutely no regard for human life.  Fortunately, no one else was hurt from this incident," said IHIT Cpl. Frank Jang.  "We are releasing Mr. Gill's name in an effort to determine his activities and who he may have had contact with prior to his death."
Anyone with information is asked to call the IHIT information line at 1-877-551- IHIT (4448), or by email at ihitinfo@rcmp-grc.gc.ca.
Should you wish to remain anonymous, contact Crime Stoppers at 1-800-222-TIPS (8477).
The other 11 South Asians killed in 2018
* January:
Sachdeep Dhoot, 18, of Surrey: Last seen on January 9, body found in Vancouver on January 18. Vancouver Police said it appeared to be a targeted murder.
* January 19:
Lovepreet Singh Dhaliwal (Jason), 24, of Abbotsford. Police said he was trying to leave a criminal lifestyle.
* January 27:
Kalwinder Thind, 23, of Richmond, an innocent victim who died outside a downtown Vancouver nightclub on Granville Street while trying to break up a fight.
* February 15:
Kaminder Rai, 32, of Surrey, a realtor who was killed in Vancouver.
* March 9:
Pardip Brar, 23, of Delta, who was killed in Surrey. He was known to police.
* April 26:
Amin Vinepal, 24, of Delta, whose body was found in Surrey. He was known to police.
* June 4:
Jaskarn Singh Jhutty (Jason), 16, and Jaskaran Singh Bhangal (Jesse), 17, both of Surrey. The Frank Hurt Secondary School students' bodies with gunshot wounds were found on a roadside.
* July:
Sukhpreet Grewal, 32, of Abbotsford, whose body was found inside a home on July 20. He was known to police.
* August 4:
Gagandeep Singh Dhaliwal, 19, of Abbotsford. He was known to police.
* August 19:
Lakhwinder Singh Bal, 48, of Surrey. He was known to police.