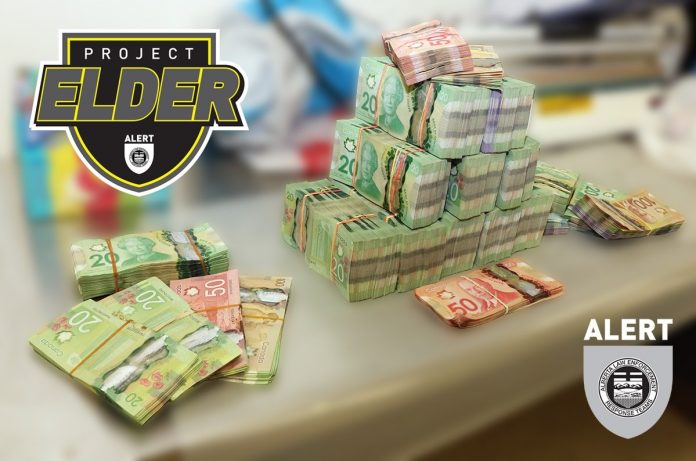 A two-year investigation by Alberta Law Enforcement Response Teams (ALERT) has cut off a drug pipeline between British Columbia and Alberta. More than $2 million in drugs and cash was seized and a dozen suspects have been arrested, police announced on Wednesday in Edmonton.
A total of 59 charges have been laid against:
Neil Kravets, 28, from North Vancouver;
Brandon Worsley, 29, from Edmonton;
Joseph Nicholson, 29, from Airdrie;
Brandon Brown, 22, from Edmonton;
Richard Sansoucy, 56, from Edmonton;
Gregory Ewald, 44, from Edmonton;
Fayiz Moghrabi, 28, from Vancouver;
Richard Chalifoux, 37, from Edmonton;
Suk Han, 35, from Vancouver;
Andy Estrada, 29, from Edmonton;
Daniel Estrada Sr., 58, from Edmonton; and
Moshe Banin, 31, from Edmonton.
Project Elder was an ALERT Edmonton investigation that probed interprovincial, wholesale drug distribution. ALERT alleges that a high volume of drugs were being shipped to Alberta involving a complex scheme that included vehicles equipped with hidden compartments.
ALERT alleges the drugs were being shipped to Edmonton and Calgary with further distribution points across the province.
"Organized crime groups don't respect borders, which is why we need agencies like ALERT that work with law enforcement partners in other jurisdictions to investigate, disrupt and dismantle serious criminal activity such as organized crime and illegal drug trafficking. I want to thank investigators from ALERT and the other organizations involved in Project Elder for their outstanding and tireless work on this long and complex operation that maintains Albertans' confidence in our law enforcement agencies' abilities to ensure they are safe, secure and protected in their communities," said Doug Schweitzer, Alberta's Minister of Justice and Solicitor General.
Project Elder concluded on June 5 with several arrests taking place. Additional arrests and search warrants were staggered over the course of the investigation and took place in Edmonton, Calgary, Innisfail, and Vancouver.
Two homes, two businesses and multiple vehicles were searched. The drugs alone have an estimated street value of $1.5 million. Items seized include:
– 9.3 kilograms of cocaine;
– 17.2 kilograms of a cocaine buffing agent;
– 6 kilograms of methamphetamine;
– 684 grams of fentanyl powder;
– $514,335 cash;
– a handgun with suppressor and expanded magazine; and
– 5 vehicles with hidden compartments.
ALERT used a number of sophisticated techniques and specialized resources to dismantle the group. Project Elder relied heavily on the assistance of: Edmonton Police Service; CFSEU-BC; North Vancouver RCMP; RCMP E-Division; Innisfail RCMP; RCMP Federal Serious and Organized Crime; and Alberta Sheriffs surveillance team.
Project Elder dates back to March 2017 when investigators targeted an Edmonton-based drug trafficking group. ALERT was able to expand the scope of that initial investigation and identified the group's suspected B.C.-based supplier.
ALERT alleges that Neil Kravets coordinated the supply of drugs from B.C. and oversaw the group's activities. The 28-year-old man from North Vancouver has subsequently been charged with instructing a criminal organization, among a host of other charges.
Eleven suspects with Kravets's alleged drug network were arrested, many of whom were charged with participation in a criminal organization and conspiracy to traffic cocaine, methamphetamine, and fentanyl.
Members of the public who suspect drug or gang activity in their community can call local police, or contact Crime Stoppers at 1-800-222-TIPS (8477). Crime Stoppers is always anonymous.