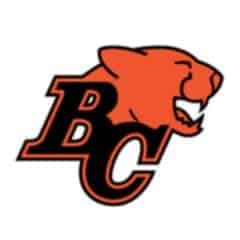 WINNIPEG
will be in Vancouver this 
Friday, June 8 with a 7:30 p.m.
 kickoff at BC Place for its final pre-season game with the BC Lions. For both teams this will be the final game to help with the evaluation process before having to declare their rosters on 
June 9
. The Bombers are coming to BC Place with a pre-season win under their belts, knocking  off an Edmonton Eskimos squad last Friday with a 33-13 win. Edmonton brought only five starters for their preseason finale.
The Lions  had a 36-23 victory over Calgary Stampeders to kickoff the pre-season last week. The Lions were behind on the scoreboard until the third quarter, when 25-year-old QB from Minnesota State Ricky Lloyd connected with Kevin Elliott, Trevon Van and Ricky Collins Jr.  for three touchdown passes. Ricky Lloyd has been exposed to the CFL for less than two weeks, but Lloyd made an impact in his first game.
The 2018 BC Lions season will be the 61st season for the team in the Canadian Football League and their 65th overall. The Lions will attempt to improve upon their 7–11 record from 2017, return to the playoffs after missing them for the first time since 1996, and win their 7th Grey Cup championship.
BC Lions season memberships for 2018 are available now. New and renewing season members save as much as 29% on single game tickets while also receiving numerous membership benefits.
The Lions will opening the regular season at home under the dome at BC Place on 
Saturday, June 16 at 7 p.m.
 against the Montreal Alouettes.