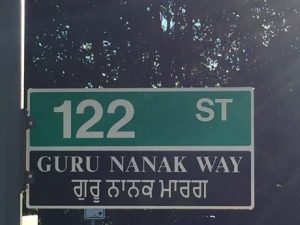 BACK in June 2015, The VOICE carried a report titled "What happened to the Punjabi and English road signs for two Surrey gurdwaras?"
Punjabi journalist Gurpreet Singh (lucky) Sahota had fired off a letter to a Surrey Councillor, noting: "In ex-mayor Doug McCallum era, City installed Punjabi signage on the back road of Gurdwara Dasmesh Darbar (86 Ave.) stated as … DASMESH MARG and on the back road of Guru Nanak Sikh Temple (122 Street) stated as … GURU NANAK MARG. Both signage were in Punjabi and stayed there for couple of years. Now they are missing. One of my friends called city staff about it and they replied nothing is shown in record.
"I understand, you were not in city hall that time but can you check what happened? Did they change the names of the roads in record or just put the signage? Either way, please try to reinstall them."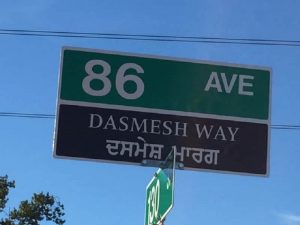 Former Surrey Mayor Doug McCallum, who is once again a mayoral candidate this year, at the time told Radio MediaWaves Communications that the removal of the two road signs that were installed when he was mayor was "a serious mistake" and he wanted that to be rectified.
He suggested that the community should take this matter up with Surrey Mayor Linda Hepner and the City Council so that the road signs could be put up again.
He pointed out that the roads where he resides in Surrey also have names such as O'Hara and McBride that reflect the heritage of the early European settlers and suggested that some road names should also reflect Punjabi heritage.
This writer found photos of the two road signs in The VOICE's photo file. The sign for Guru Nanak Gurdwara ("Guru Nanak Marg" at 122nd Street) was in Punjabi, while that for Dashmesh Darbar Gurdwara ("Dasmesh Marg" at 130th Street and 86th Avenue) was in English.
Now, community activist Jasvinder Singh Badesha has informed The VOICE that they have got both the signs installed again on the streets behind Gurdwara Sahib Dasmesh Darbar (86th Avenue) and Guru Nanak Sikh Gurdwara (122A Street).
Badesha said in an email: "We had multiple meetings with the city staff and transportation committee. After receiving final approval from the City of Surrey transportation committee, both streets signs were reinstalled by the city of Surrey crews a few weeks ago."