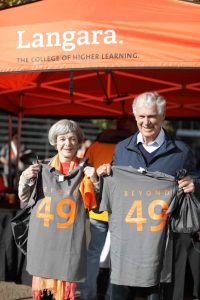 LANGARA College this week launched Beyond 49, an 18-month long campaign that marks its 49th year of operations on West 49th Avenue and it's 25th anniversary as an independent public college.  The campaign is a celebration of Langara's history, an opportunity to recognize and reconnect with Langarans, and aims to raise $2.5 million for student scholarships, bursaries, and College initiatives.
The launch event on Wednesday included a march and pep rally on campus. Led by the Coastal Wolfpack drummers from the Musqueam First Nation, over 150 students, staff, faculty, alumni, retirees, and local dignitaries walked from Cambie St. and 41st Avenue to the Langara campus on West 49th Avenue. The walk was an homage to 1970's 'Great Trek' in which original Langarans walked from the old VCC King Edward Centre on West 12th Avenue and Oak Street to the college's current location.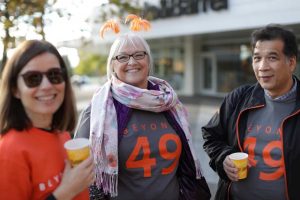 "Langara has grown and changed in so many ways over the course of its history. Throughout our 49 years, what hasn't changed is our commitment to our students and their success," said Dr. Lane Trotter, President, Langara College. "As amazing as our impact has already been, Langara is just getting started. The Beyond 49 campaign is about celebrating all that we have already achieved, and building for our next 49 years."
Dignitaries at the kick-off event included George Chow, Minister of State for Trade and MLA for Vancouver-Fraserview, Vancouver Councillor Tim Stevenson and members of the Musqueam First Nation. Before the crowd of more than 300 students, alumni, and staff, Stevenson, a Langara alumnus and current faculty member, proclaimed October 10 'Langara Beyond 49 Day' in the City of Vancouver, on behalf of Mayor Gregor Robertson.
Beyond 49 will include a number of events over the coming months, including Community Day presented by RBC on June 15, 2019, and 49 Langarans, a celebration in November of 2019 to recognize the 49 individuals who have had the largest impact on the College and the communities it serves. Visit www.beyond49.langara.ca for more details on Beyond 49.
Key dates in Langara's history
1905 – Langara's roots trace back to the King Edward High School, located at Oak and West 12th Ave. King Edward was Vancouver's first and only secondary school until 1925.
1909 – Vancouver School Board (VSB) expands its adult education activities by starting night school classes at King Edward High School.
1965 – VSB establishes BC's first community college – Vancouver City College. Classes are offered at King Edward Centre, our first home. VCC brought together the Vancouver Vocational Institute, the Vancouver School of Art, the Vancouver School Board's Night School Program, and the King Edward Senior Matriculation and Continuing Education Centre.
1965 – A new campus is in the works as VSB purchases 20 acres of land from the Canadian Pacific Railway to build the new VCC Langara campus.
1970 – Langara's journey on 49th begins. The VCC Langara campus opens at a cost of $5.3 million for the building and another $1.5 million for furniture and fittings (about $19 per square foot). VCC's first principal Mr J.D. Newberry welcomes over 4,700 students to campus.
October 1970 – To celebrate the opening of the new campus, students, teachers, and administrators walk or drive from the King Edward Centre to VCC Langara, a historical event coined as 'The Great Trek'.
1973 – A fire destroys VCC King Edward Centre. A low stone wall from the original King Edward site still stands today outside VGH on Oak and 12th as a reminder of its place in history.
1974 – Vancouver City College changes its name to Vancouver Community College (VCC) and becomes a college independent of VSB.
1994 – Langara College becomes an independent public college, separate from VCC. Linda Holmes becomes the College's first President & CEO.
1997 – The B Building, a new classroom and office facility opens on campus.
2007 – The campus continues to grow as Langara opens the LEED Gold Certified Library building.
2010 – The Gathering Space opens at Langara to provide an environment for Indigenous students to connect while on campus. The Gathering Space is also home to a counsellor and Elder in Residence.
2016 – Langara receives the name snəw̓eyəɬ leləm̓ from Musqueam which means house of teachings in their language. Langara is the first public post-secondary institution in BC to receive this honour.
October 2016 – Langara opens the Science & Technology Building. The building would later receive Leadership in Energy and Environmental Design (LEED) Gold status in 2017 as well as the Illumination Merit Award.
September 2018 – House post raised to welcome all visitors to the traditional unceded territory of the Musqueam People on which Langara resides.