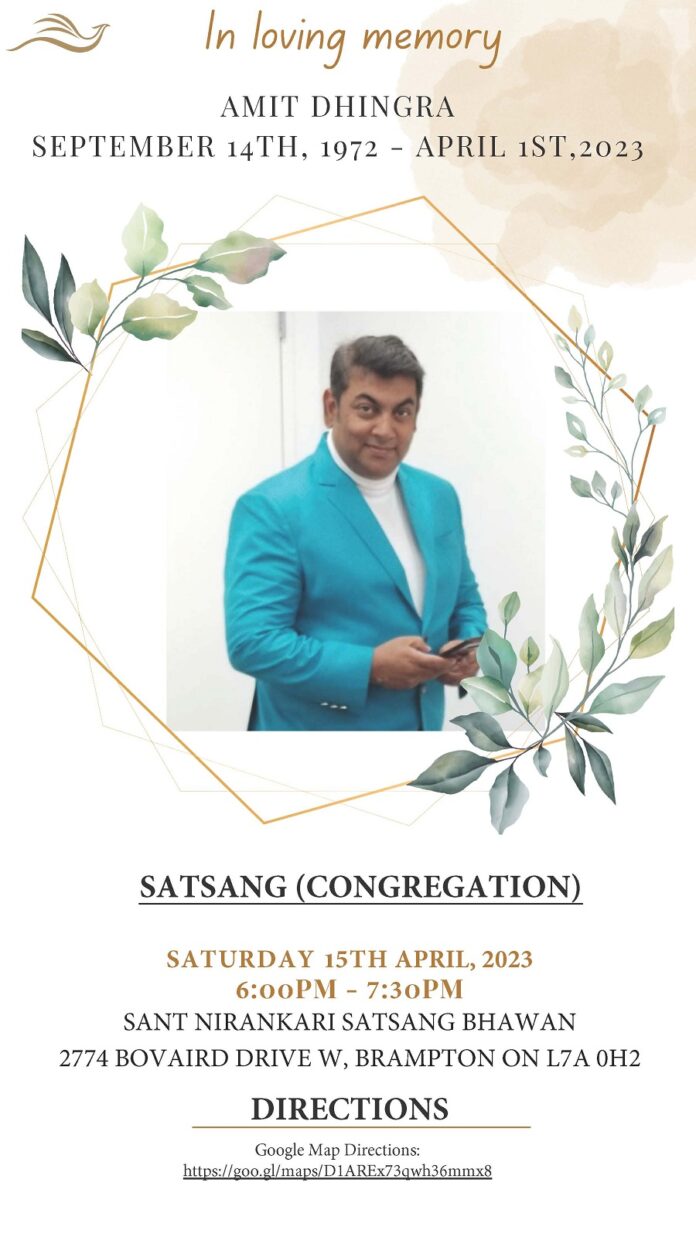 IT is with heavy hearts that we announce the passing of Amit Dhingra, a cherished realtor and devoted father of two beautiful daughters. On April 1st, 2023, Amit departed this world, leaving behind a legacy of kindness, compassion, and unwavering dedication to his loved ones and community.
Amit's remarkable presence in the real estate industry was marked by his boundless energy, keen intellect, and remarkable ability to connect with people from all walks of life. His passion for helping others find their dream homes was matched only by his unwavering commitment to providing the highest level of service to his clients.
Beyond his professional accomplishments, Amit was a beloved father who adored his two daughters and cherished every moment spent with them. He was a pillar of strength, a source of unwavering support, and a constant reminder of the power of love and family.
Amit's life will be celebrated at a funeral and cremation service on Friday, April 14th from 3 pm to 5 pm at the Brampton Crematorium and Visitation Centre. His legacy will be honored at a Satsang (a congregation) in loving memory of the respected Amit Dhingra Ji, on Saturday, April 15th from 6 pm to 7:30 pm at the Sant Nirankari Satsang Bhawan.
Amit's passing is a profound loss to his family, friends, and community, but his spirit will live on through the memories he created and the lives he touched. May his soul rest in eternal peace, and may his family find solace in the love and support of those who knew and loved him. Please Join Us to say Goodbye to Amit Dhingra.
Meghna Dhingra (Wife)
289-801-5048