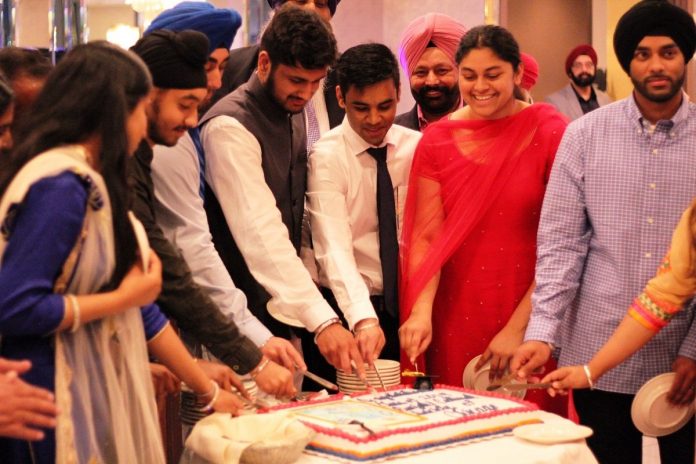 CHICAGO: The Punjabi Cultural Society of Chicago (PCS) hosted its nineteenth annual "Punjabi Youth Graduation and Scholarships Awards Night" on Sunday, June 2 at Viceroy of India Banquet Hall in Lombard, Illinois, a suburb of Chicago. PCS Scholarships were awarded to the winners and all Punjabi class of 2019 graduates who attended were honored with gifts and certificates.
The keynote address was given by Amrith Kaur – Legal Director of Sikh Coalition, a Civil Rights organization based in New York.
The youth speaker was Dr. Sukhraaj Singh Basati who has a doctorate in biomedical engineering and works as a Systems Engineer at Baxter International.
Gurleen Kaur of Wheeling High School won the $1,500 first place scholarship. Seerat Kaur of Downers Grove North High School won the $1000 second place scholarship. The winners were also honored with a plaque.
A cake-cutting ceremony to honor all graduates was held. All graduates received certificates of honor and gift cards from PCS.
The participants, item coordinators and the emcees of "Rangla Punjab 2019" the PCS Annual Vaisakhi cultural program received their appreciation awards and gift certificates distributed by community leaders assisted by PCS officials.
The celebration included DJ music, dancing, networking, and delicious Indian cuisine.
The dinner party was free for the graduates, Rangla Punjab participants and children under 10.
"The purpose of this program is community building. It is to encourage our next generation to go for higher education. Our children need love, appreciation, encouragement, and professional guidance," said Harwinder Paul Singh Lail, PCS President.
"This year is special as PCS is celebrating its silver jubilee, 25 years of community service," said Vick Singh, Vice President of PCS, who welcomed the guests to start the program.
Lail introduced the PCS officials and thanked the graduates, Rangla Punjab participants, item coordinators, parents, all the guests, and the event sponsors.
PCS Chairman Gurdeep Singh Nandra praised the 25 years of community service and meaningful work being done by PCS for the next generation. He also encouraged the community members to support PCS.
The graduation night was made possible by the generous sponsorships of Dr. Bhupinder Singh Saini, Dr. Narinder Singh Grewal, Dr. Surjit Singh Patheja, Kevindeep Singh Atwal, Rajpreet Kaur Dhaliwal, Rajneesh Kaur Nandra, Mohina Ahluwalia, Amrit Mittal (New York Life), Harinder Singh M.I.T.S., the late Dr. Pritam Singh's daughters, Dr. Jasvinder Singh Chawla, Dr. Amarjit Singh, and Jasbir Singh Bhalla among many others.
The program was organized by Harwinder Paul S. Lail, Vick Singh, Parvinder S. Nanua, Manjeet S. Bhalla, Bhupinder S. Dhaliwal, Gurlal Singh Bhattal, Navtej Singh Sohi, Bikram Singh Sohi, Parmjot Singh Parmar, Surinder S. Palia, Rajinder S. Mago, Manjit S. Gill, Sukhmel S. Atwal, Mohinderjit S. Saini, Jasbir S. Palia, Bhinder S. Pamma, Amarjit K. Atwal, Balwinder S. Girn, Gurmit S. Dhillon, Parminder S.Ghotra, Yadwinder S. Grewal, Rajpreet Dhaliwal, and Rajneesh Nandra.
The Punjabi Cultural Society of Chicago is an all volunteer, not-for-profit community service organization devoted to promoting Punjabi culture, language, performing arts, healthy lifestyle, sports, education, and good citizenship in the metropolitan Chicago area and beyond.
For further information contact:
Punjabi Cultural Society of Chicago
P.O. Box 1244 , Palatine , IL 60078
Phone: 847-359-5727 / Email: info@PCSChicago.org
PCS website: http://www.pcschicago.org/
F.B.: https://www.facebook.com/ pcschicago/