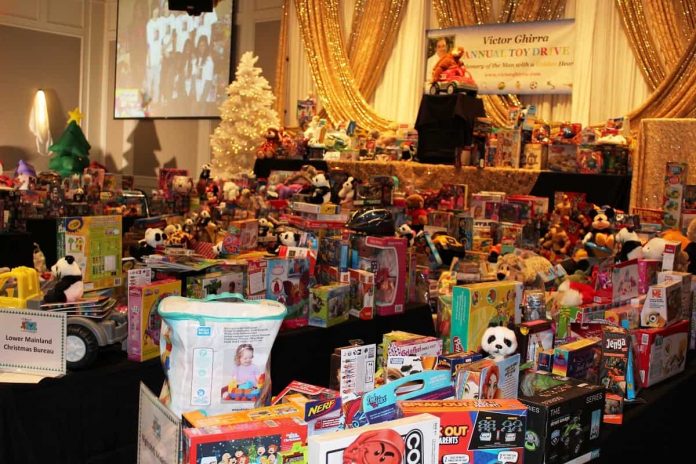 SANTA'S helpers from across the Lower Mainland loaded up their sleighs with toys and rode to Riverside Palace Banquet Hall in Richmond for the 12th Annual Victor Ghirra toy drive grand toy count event on Saturday.
Victor's giving legacy to those who need it most is still alive today, bringing hundreds of people together to make a difference. With the help of the Benevolent Brotherhood Society, the Ghirra family, the Co-operators Insurance agencies, Riverside Banquet Halls, TuGo Travel Insurance and Vancity Credit Union, they collected over 4,500 toys.
In dedication to Victor, this toy drive continues to bring Christmas cheer to thousands of boys and girls. Neeta Ghirra, Victor's sister-in-law, said: "This toy drive was something that started out small. Each and every year it has grown to help dozens of good causes and now it is big annual family event. Twelve years later, Victor's generous spirit is still making a difference."
Riverside Palace Banquet Hall was transformed into a Winter Wonderland for this annual family holiday event, with festive décor, photos with Santa and tasty treats for everyone to enjoy.
Victor was involved in many charitable initiatives, but one charity that Victor was really touched by was the BC Children's Hospital. A heartwarming story that depicts Victor's character was when he would buy thousands of dollars of toys every Christmas and go to Children's Hospital to donate them to needy children. When they would ask, "Who are you and where are these toys from?" Victor would simply reply, "It doesn't matter who I am or where I am from, these toys are for the kids and that's all you need to know."
It was later found that Victor had made trips to the hospital for over a dozen years. Victor was just being Victor, he didn't tell anyone what he was up to.
Victor had such a profound impact on the people he worked with that many are still deeply involved with the toy drive. Moya Matick, Office Manager with the Co-operators, said: "The Co-operators District and Agency staff are so proud to continue to support the children's charities who so need our help at this time of year. We raised $600 and brought over 100 toys to add to the holiday cheer."
Jerry Gamble, Business Development Manager, TuGo Travel Insurance, also worked with Victor at VanCity Insurance and looks forward to the toy drive every year: "This year we asked employees at TuGo to volunteer their time and give back to the community through the toy drive. TuGo generously donated $750 for toys this year in appreciation for their team's volunteer work."
North Vancouver RCMP helped collect toys at their detachment for the second year when a few officers heard about Victor's story. They were able to collect several boxes full of toys once again. Not only do they serve and protect our communities but they also give back from the heart.
Dentist Dr. Harpreet Singh Dhillon once again stepped up to make the toy drive successful this year: "We were happy to set up boxes for donations at all of our offices. Our staff and especially our patients gave big to make a difference. It is our pleasure to be part of this toy drive."
The annual toy drive dedicated to Victor was able to help 12 good causes this year: Children's Hospital, Lower Mainland Christmas Bureau, Key Solutions, Richmond Christmas Fund, Options BC, Canuck Place, Nightshift Ministries – Care Centre, North Shore Family Services – Christmas Bureau, Harmony House, Surrey Christmas Bureau and two local schools with families in need. More than 37,650 toys have been collected over the past 12 years in memory of Victor.
Harvey Kooner of BBS, founder of the toy drive, said: "Our organizing committee and dedicated volunteers worked hard to make this year a success. We are motivated each year to help more children have a bright holiday season. To the hundreds of kindhearted people that give, it is important to note that without your donation a child would not be getting a gift this Christmas. Thank you for your support. With dozens of local and international charities benefiting from the toy drive, it is heartwarming to know that we can impact thousands of lives."
For more information on how you can make a difference with next year's toy drive, contact Harvey Kooner at 604-671-4180 or harveykooner1@gmail.com.