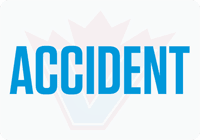 ON Monday, March 25 at approximately 2:49 p.m., Coquitlam RCMP responded to a two-vehicle collision at the intersection of Mariner Way and Riverview Crescent. A grey Dodge Charger, travelling southbound on Mariner Way and intending to turn left onto Riverview Crescent, and a black BMW, travelling northbound on Mariner Way, collided.
The impact of the collision caused the BMW to spin onto the raised traffic island where five children were standing: three girls, aged 17, 13 and 10, and two boys, aged 11 and six. Two of the children, the 13-year-old girl and the six-year-old boy were taken to hospital with serious injuries. Soon after arriving at the hospital, the girl succumbed to her injures. BC Coroners Service is also investigating.
Both drivers involved are cooperating with police. At this time, impairment and distraction do not appear to be a factor in this collision. (Earlier, RCMP had announced that there had been a three-vehicle collision, however further investigation determined that the third vehicle was not involved in the collision.)
The Criminal Collision Investigation Team and ICARS were called to conduct the investigation and scene examination. Both vehicles have been seized for further investigation. At approximately 11:55 p.m. the roads were reopened.
Anyone who witnessed the collision take place or has in-car video that recorded the scene is asked to contact Coquitlam RCMP Traffic Services immediately at 604-945-1550 and quote file 2019-8907.