SANTA'S helpers from across Metro Vancouver came by the drive-thru collection in Richmond last Saturday for the 14th Annual Victor Ghirra Toy Drive grand toy count event. This year's demand for toys was the greatest in the history of this toy drive.  Due to the pandemic, non-profit organizations across the Lower Mainland saw an increased need for donations from the community. Over 50 vehicles made their way through the Riverside Grand Ballroom parking lot, serenaded by cheers from organizers as they drove in.  Everyone was adhering to COVID-19 protocols, wearing masks and social distancing.  
Victor was smiling down on this year's toy drive as the sun shone bright.  This year's event attracted donors to come through, enjoy some holiday cheer, have their photos taken, and receive pre-packaged holiday treats as appreciation.  With 2020 being a challenging year, the hope is that these toys will provide some comfort and positivity for less fortunate children this Christmas.  With the help of the Benevolent Brotherhood Society, the Ghirra family, The Co-operators Insurance agencies, Riverside Banquet Halls, Johnston Meier Insurance and Vancity Credit Union, they collected over 2,000-plus toys. 
In memory of the man with a golden heart, the toy drive is devoted to bringing smiles to hundreds of boys and girls. Bobby Ghirra, Victor's older brother said: "At a time where we are all in our core bubbles, we miss Victor more than ever. We wanted this toy drive to go through and make a difference in his honour. We know he would be proud of us."
Victor was involved in many charitable initiatives, but one charity that Victor was really touched by was the BC Children's Hospital. A heartwarming story that depicts Victor's character was when he would buy thousands of dollars worth of toys every Christmas and go to Children's Hospital to donate them to needy children. When they would ask, "Who are you and where are these toys from?" Victor would simply reply, "It doesn't matter who I am or where I am from, these toys are for the kids and that's all you need to know."
It was later found that Victor had made trips to the hospital for over a dozen years. Victor was just being Victor, he didn't tell anyone what he was up to.
Victor had such a profound impact on the people he worked with that many are still deeply involved with the toy drive. Joe Casciano, Operations Supervisor with The Co-operators said: "This year the toy drive went well with everything considered. We raised over $1,500 thanks to the efforts of individual employees, The Co-operators agencies and Metro Vancouver District office. We were able to contribute 150 toys with funds raised to help some kids get some cheer at the end of this very dreary year."
Jerry Gamble of Johnston Meier Insurance, who worked with Victor and was eager to keep the toy drive alive despite the pandemic, said: "It was beyond heartwarming to see such incredible support this year during COVID-19. I think people were more generous than previous years. Johnston Meier Insurance donated $500 towards purchasing toys. I think Victor was looking down and grinning."
The annual toy drive dedicated to Victor was able to help 13 good causes this year: BC Children's Hospital, Lower Mainland Christmas Bureau, Key Solutions, Richmond Christmas Fund, Options BC, Canuck Place, Nightshift Ministries – Care Centre, North Shore Family Services – Christmas Bureau, Second Stage Women's Centre, Ray-Cam Community Centre, Surrey Christmas Bureau and two local schools with families in need. More than 42,650-plus toys have been collected over the past 14 years in memory of Victor.
Harvey Kooner of BBS, founder of the toy drive, said: "With a year that saw job losses, isolation, and the way we live change forever, it's especially important to end the year on a high note. This year there will be 2,000-plus children having a smile on their face thanks to Victor's legacy. I felt each day leading up to the grand toy count we gained momentum as more and more community members stepped up and helped. It all contributed to another wonderful year."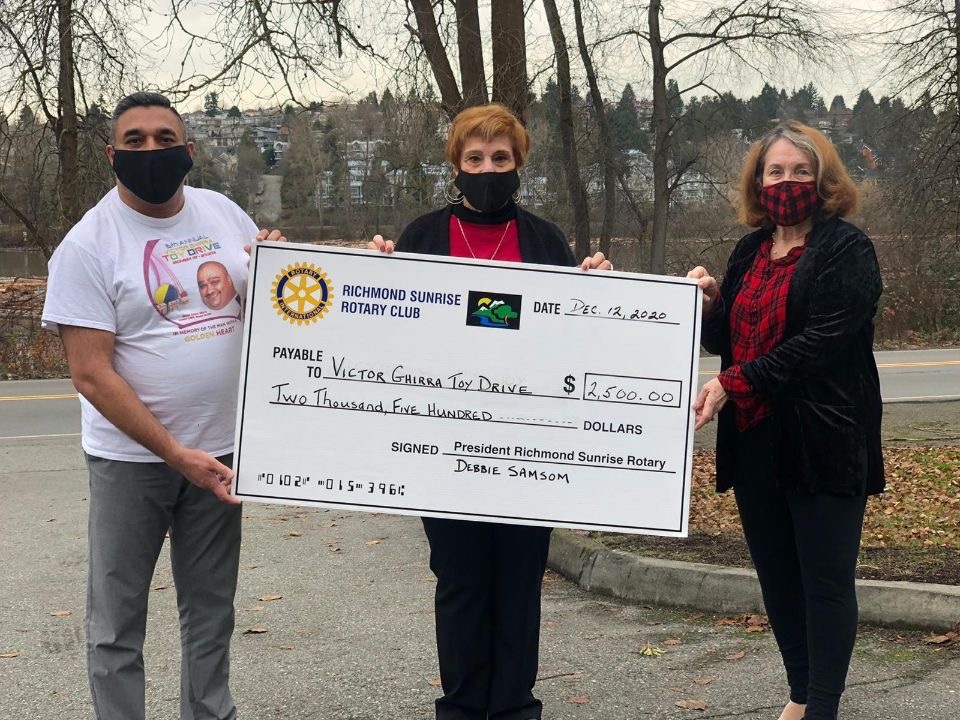 Once again Richmond Sunrise Rotary stepped up and gave back in a big way. Not only did their members contribute toys, they also donated $2,500 towards purchasing toys for this year's event. In addition to their club donation, individual members of Richmond Sunrise Rotary contributed generously to the event. Kal Mahal, Richmond Sunrise Rotary member, said: "We're happy to help with this toy drive and continue the generous spirit of Victor. There are so many families in need in the community, we wanted to do our part to help. This toy drive brings people together for a common cause."
For more information on how you can make a difference with next year's toy drive, contact Harvey Kooner at 604-671-4180 or harveykooner1@gmail.com.