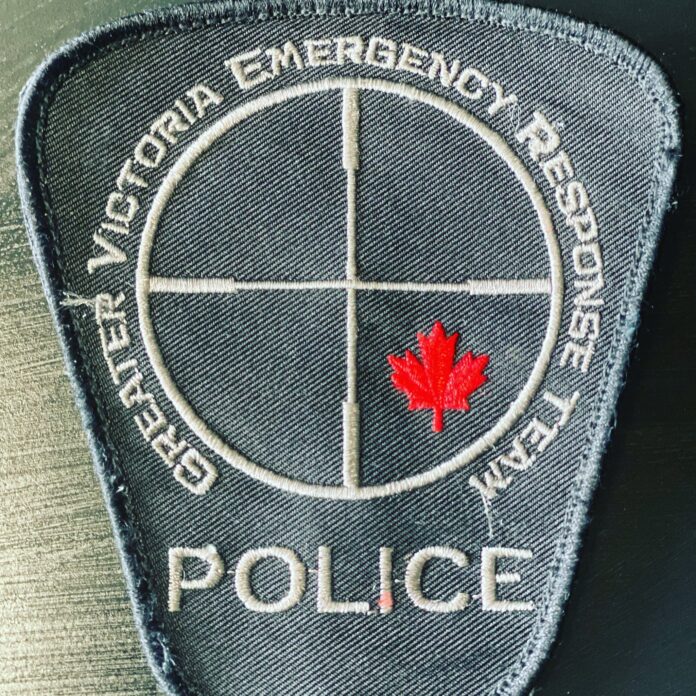 AT approximately 11 a.m. on Tuesday, officers with Saanich Police, the Greater Victoria Emergency Response Team (GVERT), and Victoria Police responded to a report that two armed men had entered a bank in the 3600-block of Shelbourne Street in Saanich. Multiple officers responded to the scene and encountered the armed suspects who fired at police. Two suspects were shot by police and died at the scene.
Six GVERT officers suffered gunshot wounds and were transported to hospital. "We anticipate that some officers will be released following emergency treatment, whereas other officers sustained serious injuries and have been taken into surgery," police said.
Three of the GVERT officers are members of Saanich Police and three are members of Victoria Police Department.
Police do not believe that any bank employees, bank customers, or members of the public were physically injured in this incident.
Homes and businesses in close proximity to the scene of the incident were evacuated due to the presence of a potential explosive device in a vehicle associated to the suspects.
Around 9 p.m., Saanich Police tweeted: "We will be holding the scene overnight and the area remains closed to vehicle and foot traffic. The Explosive Disposal Unit is still on scene. Homes and businesses remain evacuated."
MIKE Farnworth, Minister of Public Safety and Solicitor General, in a statement said:
"My thoughts are with the [wounded] officers, their families, friends and colleagues, and we wish them a speedy recovery.
"Every day, police officers put their lives on the line to protect our communities. Today is a powerful reminder of the crucial role police officers play in keeping our neighbourhoods secure. My government and I deeply appreciate their courage, professionalism and commitment.
"Our thoughts are also with the Saanich and Victoria Police Departments as they grapple with today's tragic events.
"I want to thank the Saanich and Victoria Police Departments, along with the neighbouring policing agencies in the Greater Victoria region, including the RCMP, Oak Bay Police and Central Saanich Police Departments, for their assistance and support. As always, first responders and volunteers also stepped up quickly to help, and we truly appreciate their dedication.
"This remains an ongoing police incident and an active investigation."
SURREY Mayor Doug MCCallum said in a statement: "On behalf of Surrey City Council, I want to acknowledge the brave actions of the police officers from Saanich, Victoria and the Greater Victoria ERT. The officers showed immense courage under fire in their pursuit of the armed criminals. Thank you for keeping the public safe. A quick and full recovery to each officer in care."