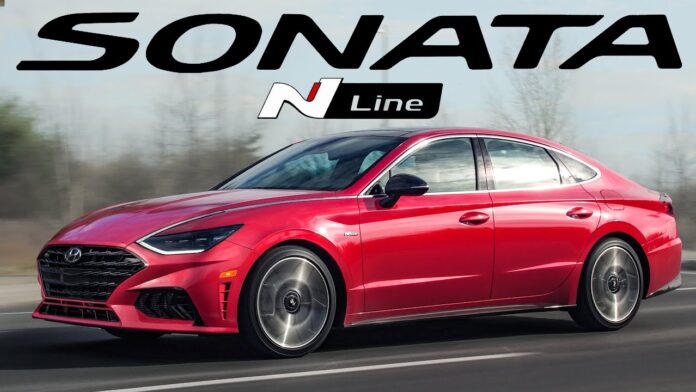 By Veeno Dewan
Based on the midsize 2021 Hyundai Sonata sedan, the Sonata N is the  brands performance car that Hyundai hopes to appeal to enthusiasts.   The N Line swops out the naturally aspirated 2.5L or turbocharged 1.6L –for a fire breathing 2.5L turbocharged four-cylinder under the hood with a impressive 290 hp and 311 lb-ft of torque – that is a  mindboggling 100 hp extra. The N Line engine is teamed with  a model specific eight-speed dual clutch transmission.
Exterior wise, the N Line Sonata adds the following: N Line-specific 19-inch wheels. Exclusive front and rear-bumpers, a nifty black rear spoiler and quad chrome exhaust tips.
The N Line interior offers Nappa leather and suede sports bucket seats with grippy side bolsters. Bright red stitching adds contrast   throughout the cabin. There  is also funky red ambient lighting and metal  foot pedals for some extra sporty touches.
But it is not just cosmetic, The N Line benefits from Hyundai's  hiring of a former Chief BMW Engineer who   tuned the high-performance BMW M cars to such world beaters.  Hyundai also tested and tuned its  N-Line cars at the famous  German Nürburgring racetrack.
Other N Line performance assets include steering, suspension, and brake upgrades . The  N Line   has a rack-mounted electric power steering system for quicker, more responsive reflexes.  On the suspension and braking front there are 5% stiffer rear springs, while the front and rear stabilizer bars have been dialled up five per cent and 18 per cent stiffer. The brakes feature slightly  larger rotors for better heat dissipation. Hyundai also added features such as  launch control, a louder  exhaust note, and an active sound system that projects amplified engine noises through the speakers.
Interior wise, the Sonata N Line features a 12.3-inch digital gauge cluster, a 10.25-inch infotainment screen, and a nice-looking  colour head-up display (HUD). There's also Android Auto and Apple CarPlay support, a wireless phone charger, and a 12-speaker audio system.
Driver assistance and safety assistance technology includes adaptive cruise control, lane-keeping assistance, and automatic braking. Hyundai's excellent forward collision alert detect cyclist's oncoming and to the side. Other tech includes the rear cross-traffic alert system, blind-spot monitoring, and automatic high-beam assistance.
As usual Hyundai offers a lot of car for the money,  the uprated engine with its 100-extra horsepower, brakes and suspension upgrades, sports cabin and performance comes in at a very reasonable $37,999 plus  delivery charges.
On the road, the N Line shows it skills with drama, the 2.5L engine allows for  wheel spinning starts and thrilling acceleration. The engine   proves its pedigree, producing torque low in the rev range, with peak torque flowing from 1,800 to 4,000 rpm) giving the N Line impressive fire breathing cruising speed.  The zero-to-100 km/h run is estimated at about six seconds, about two seconds quicker than a regular Sonata.
The model-specific eight-speed automatic twin clutch is a  thing of beauty as well with delicate, discreet shifts, holding gears a tad and rev matching while decelerating for corners. The stiffer springs, dampers and thicker sway bars allow the N Line to dispatch corners in a methodical, predictable way. There is a series of driver selectable   modes that allow tuning for different terrains and performance options.  Normal makes the Sonata N Line a nice guy personality with a comfortable ride. Sport mode ramps up the ride and handling, while Sport Plus  is beast mode  for empty roads, crazy acceleration with a rougher, stiffer rife and stretched out handling.
To sum up the N Line offers superb performance– Not a lot of downsides,  Sport Plus mode ride is mighty stiff, and purist might have hankering for AWD to handle the skittishness. With the BMW M tuning , there is a  revealing of genuine performance credentials and a ride that is truly exciting, blessed with a powerful engine, and the bigger brakes, the next generation N Line can only get better. Where the Sonata N Line  has the advantage is the better that as standard equipment levels that are thousands of dollars extra in its rivals. This new N Line is a wonderful bargain performance car to drive and own. Comes highly recommended.
2021 Hyundai Sonata N Line priced from: $37,999 plus delivery and taxes.
More info at www.hyundai.com