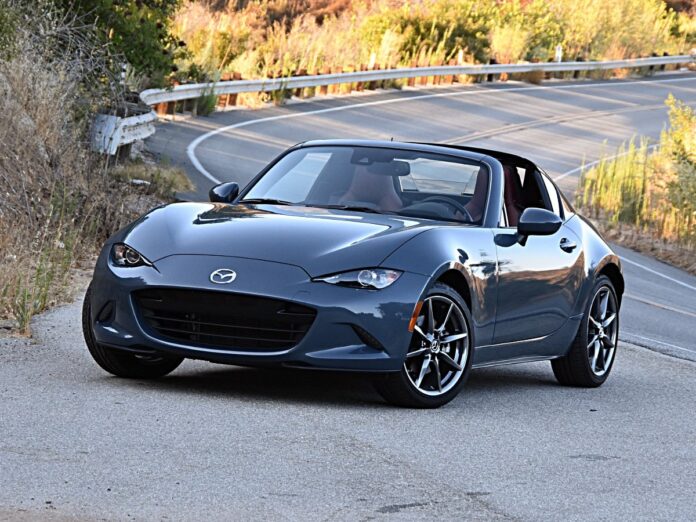 By Veeno Dewan
The Mazda MX 5 RF is a Targa roof version of the iconic MX-5 roadster. RF is short for retractable fastback. The main difference in the new RF is the rear upper part of the body that features dual flying buttresses, giving the RF a very unique fastback, all in about 13 seconds
New updates for 2021 include: wireless Apple Carplay in the GT trim, along with gorgeous optional white leather Nappa seat covers and accompanying white door and dash trim. There was a 2020 mild  power bump up to 181 horsepower from the 2.0-liter four-cylinder engine at a higher 7,000 rpm and 151 pound-feet of torque at 4,000 rpm.  Maximum engine speed has been raised from 6,800 rpm to 7,500 rpm. Torque has been increased from low to high engine speeds, with faster response times for the engine. The RF is premium upgrade to the MX-5 and starts at base $42,900.  The transmission is either a six-speed manual transmission or a six-speed automatic gearbox.
The interior is snug and comfortable with well bolstered seats that allow for high-G maneuvers without sliding around.  Love the  white coloured eats, door panel and dash that add so much class to the interior! Interior storage is tight, this being a small narrow car – there are two removable cupholders, a small center console/arm rest and a cubby hole under the bottom of the center stack that can take a phone or wallet.  Sadly, the trunk is miniscule at only 121L cargo capacity.  Take soft squishy bags!
The driving experience is so pure in the MX-5, that even novice drivers can carve corners with precision and skill.  The steering is light and very responsive with excellent feedback.  It's the epitomes of point and shoot driving. Despite the extra weight in the RF, I could not detect any drop in performance. The formula is delightfully simple and works. Beautifully engineered handling, a slick six-speed manual and a responsive four-cylinder engine providing adequate power.
Note, the RF is not a cheap option for what is a very small two- seater. Still, it is worth the money. If purist daily driving thrills are what you need – look no further than the RF. Simply Wonderful.
2021 Mazda MX-5 RF GT   MRSP Priced from $40,200 
Website: www.mazda.ca