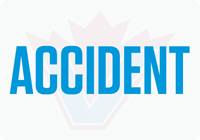 BURNABY RCMP's Criminal Collision Investigation Team is investigating a motor vehicle collision that resulted in the death of a motorcyclist.
On Saturday, April 22 at approximately 11:20 a.m., Burnaby RCMP frontline officers responded to a two-vehicle collision involving a tractor trailer and a motorcycle at North Fraser Way and Wiggins Street.
The tractor trailer was northeast-bound on North Fraser Way and attempting to make a right turn onto Wiggins Street. The motorcycle attempted to pass the tractor trailer on the right at a high rate of speed, resulting in the collision.
The 27-year-old male motorcyclist was declared deceased at the hospital a short time later. The driver of the tractor trailer remained on scene and has cooperated with the investigation.
Police said while it is early in the investigation, it appears speed was a contributing factor.
Burnaby's Criminal Collision Investigation Team has assumed conduct of the investigation
"If you were in the area between 10:30 a.m. and 11:30 a.m. and have dash cam video, please contact our investigators," said Cpl. Mike Kalanj. "If you witnessed the incident and have not spoken to police, we would like to hear from you."
Anyone who witnessed the collision or may have dash cam video anywhere on North Fraser Way or Byrne Road and the surrounding area between 10:30 a.m. and 11:30 a.m. is asked to contact Burnaby RCMP at 604-646-9999 and quote file number 2023-13190.