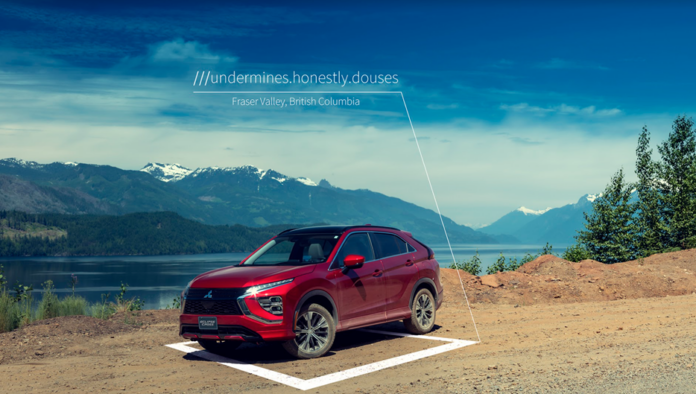 Mississauga, ON: Getting to the world's most remote places just got easier with the restyled 2022 Mitsubishi Eclipse Cross. Its navigation system features what3words location technology, enabling drivers to input and get directions to any 3 metre square in the world using just three words. And in a world first, Mitsubishi Motors Corporation is the first car company to offer what3words offline through its built-in TomTom navigation system.
what3words is a very simple way to identify exact locations. Every 3 metre square in the world has been given a unique combination of three random words. For example, ///boom.manuals.trample points you to the head office of Mitsubishi Motor Sales of Canada, and ///undermines.honestly.douses is an awe-inspiring remote location in the interior of BC.
In the true spirit of adventure and innovation, Mitsubishi Motors has teamed up with what3words to introduce the unique location technology to the refreshed Eclipse Cross* in 17 languages, from English and French to Finnish and Thai. what3words gives drivers the ability to navigate to off-the-beaten track places without an address, and to pinpoint precise  locations such as specific entrances and parking spots. what3words' AutoSuggest technology helps drivers to identify and correct any input mistakes, so they can drive off feeling reassured they're heading to the correct destination. And in a world first, what3words works offline in the Eclipse Cross. No app, data or cellular connection is required to input or navigate to a what3words address.
Chris Sheldrick, CEO and co-founder of what3words, added that "it can be difficult and frustrating putting an address into a navigation system and many of the most amazing places in the world don't have a street address. Even if you have a building number, address and postal code, you can still be left driving around trying to work out exactly where the entrance is. Now, when a drivers enter a what3words address, they can be confident that the location is accurate to 3 metres every time, and it's as simple as typing in status.deep.mountain"
what3words is used by businesses all around the world from ride-hailing apps, delivery companies, hotels, sports stadiums and emergency services. National partners include over 40 communication centres across Canada, Ontario Parks, and the Manitoba Forestry. Individuals are also using the free what3words app to navigate the world more easily and to meet friends in places without addresses such as parks and beaches.