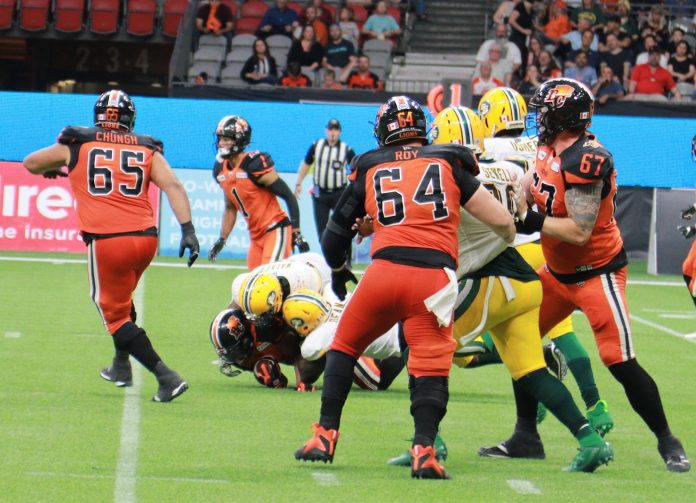 BY MATT BAKKER
IN a matchup that was billed as an opportunity for the BC Lions to make some hay in the competitive Western Division, it was the visiting Edmonton Eskimos who took advantage on a steamy Thursday night inside BC Place Stadium.
Trevor Harris threw for 276 yards and two touchdowns while an aggressive Eskimos' defence once again made life uncomfortable for Mike Reilly in a 33-6 victory for the green and gold. With the loss, Reilly and the Lions fall to 1-4-0 on the very young season while Edmonton improved to 3-1-0. When asked afterwards if this felt like rock bottom, the Lions' starting quarterback did not mince words.
"I hope so. Like you said, I don't think it can get any worse than that", said Reilly in an angry Lions' locker room.
"That's an embarrassing game. That's one of the most embarrassing games I have ever been a part of. (We were) just getting physically manhandled, all 12 guys on the field, offence, defence, special teams. It can't get worse than that. so it has to get better. It's up to us to make the changes necessary and figure out how to get better."
Reilly was sacked five times and limited to just 157 passing yards while throwing one interception for an offence that failed to find the end zone in this contest. On the other side, the Lions defence did its part by holding Edmonton to three first-half field goals to go with a one-yard touchdown plunge for Harris and only trailed 16-3 at the break.
A real turning point came on Edmonton's second play from scrimmage in the third quarter where Harris hit Natay Adjei on a screen before he promptly scampered 77 yards for a score and the visitors would not look back.
"We're going to have to do some self-reflection on ourselves as a staff and everything and we've gotta decide and determine who is executing and who is not," explained head coach DeVone Claybrooks.
"If guys are not executing, this is professional football, so if they're not executing then we've gotta revisit that and we'll explore those options as well. It's an embarrassment to us and it's an embarrassment to our organization to put something like that out on film. You give up two touchdowns on some BS and then you're still in the game despite all the things you've just played. If you just tackle, then we're still in the game. That's still on us. We've gotta tackle better."
The Eskimos defence was fired up from the get-go, forcing a two and out for Reilly and company after deferring their choice on the coin toss. It turned out to be a solid tone-setter in this one. If there is any light at the end of this tunnel, you can point to the fact we are still less than one-third into the 2019 season and to a man, they believe in that room they have the talent to figure this thing out. Still, it will be a very tough pill to swallow.
"We got our asses kicked in all phases and it was definitely not the style of football we want to play and not something anybody in this room can be proud of," added Reilly.
"We've got two choices; either stay flatlined or get a hell of a lot better than we were tonight."
For Claybrooks, it was probably not the way he envisioned starting his tenure as a CFL head coach, but at the same time, he knows the backlash comes with the territory of having high expectations. It's a challenge he plans on accepting head-on.
"Now we gotta decide on if we're going to get up off the mat, dust ourselves off, re-load or feel sorry for ourselves and have a pity party," explained the head coach.
"I know myself, I'm going to dust myself off, my staff is going to dust itself off and I know 80-90 per cent of the players are going to dust themselves off. We understand that. We've gotta rally together and we've got to stay together, especially in this trying time right now. This is one of the tipping points of your season. It can either rally you together or it can tear you apart. And if I'm a betting man, which I am, I'm going to bet that we're going to rally and stay together."
It's the type of result that can surely do down as a lesson.
Key Numbers
82- Reilly's passing yards through three quarters in a night where the offence simply couldn't get out of neutral.
12- the number of Eskimos sacks in two meetings between these two clubs.
210– the Lions total offence.
78.6- Completion percentage for Harris on a night he was 22/28.
52- the distance on one of Sergio Castillo's field goals, his longest one yet as a Lion.
Final Takeaways
The Adjei touchdown was indeed a dagger. Another moment that can't be underestimated was Sukh Chungh's unnecessary roughness call that moved the Lions back from the Edmonton 22 after a big first down. They wound up coming away with no points with the score still 10-3 Eskimos. A major momentum killer.
The offence was indeed in better hands when they established a run game. John White was limited to just 53 yards on 11 carries in this one.
Wither the offensive line production? Your guess is as good as ours. The talent is certainly there up front.
Silver lining? They have a long week to get it right before travelling to Saskatchewan one week from Saturday.