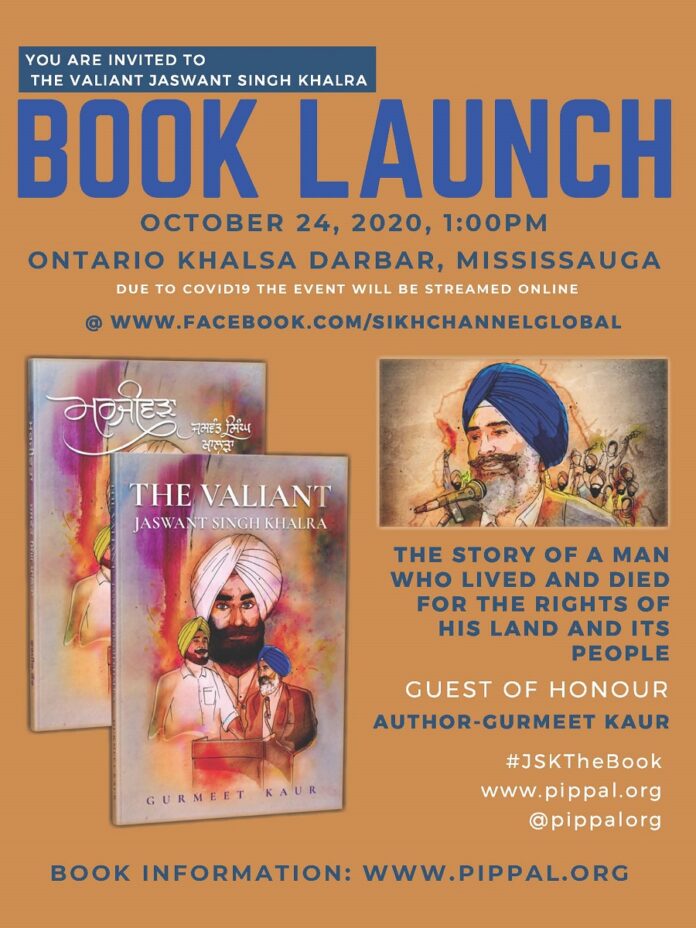 Toronto release: Saturday, October 24 at 1 p.m. at Ontario Khalsa Darbar, Mississauga. Event will be streamed by Sikh Channel.
PARTNERSHIP in Promoting Punjabi Art and Literature (PIPPAḶ) – a U.S. nonprofit formed to popularize Punjabi language and heritage amongst young generation – is launching the dual-language editions of its book on the life of Jaswant Singh Khalra — for children and young adults.
In the fully illustrated, hardcover editions of 225 pages each, Gurmeet Kaur, author of the series Fascinating Folktales of Punjab takes her young readers on a journey through the life and times of the iconic human rights activist, Jaswant Singh Khalra (1952-1995), who was tortured and brutally murdered in custody for valiantly standing by the hapless victims of state oppression, with a comprehensive overview of the recent history of the Sikhs and Punjab — a journey every child and family interested in social activism and the twentieth-century history of Punjab should make, says the World Sikh Organization.
The book will be launched by Justice Ajit Singh Bains, Bibi Paramjit Kaur Khalra (Khalra Mission Organization), Rajvinder Singh Bains (Punjab Human Rights Organization) and Satnam Singh Bains (Punjab Documentation and Advocacy Project) in Chandigarh Press Club on October 24.
The launch will be followed by a book dedication in Toronto, Canada, at the Ontario Khalsa Darbar, Mississauga, on the same day. There, the author will dedicate the book to Jaswant Singh Khalra at the same spot where he delivered his iconic speech – "I Challenge the Darkness" – 25 years ago, before he was murdered upon his return to Punjab. The dedication will be hosted by the World Sikh Organization and covered live by the @sikhchannelglobal on Facebook. For more information on the book, visit www.pippal.org or contact info@pippal.org.