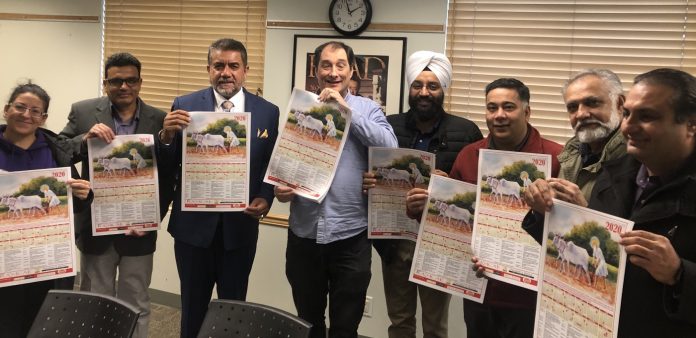 RADICAL Desi in partnership with others released its annual calendar in Surrey on Sunday, December 1.
Dedicated to the 550th birth anniversary of the founder of Sikhism, the calendar was unveiled by the Editor of Georgia Straight, Charlie Smith. Others who joined him in the ceremony included Surrey-Newton MP Sukh Dhaliwal and Surrey-Green Timbers MLA Rachna Singh, besides members of Guru Nanak Free Kitchen and Indians Abroad for Pluralist India (IAPI).
The painting of Nanak ploughing fields like an ordinary and hardworking farmer printed on the calendar was made by Jarnail Singh. It has several important dates related to the radical history of South Asian elders alongside significant days, such as International Human Rights Day and International Women's Day.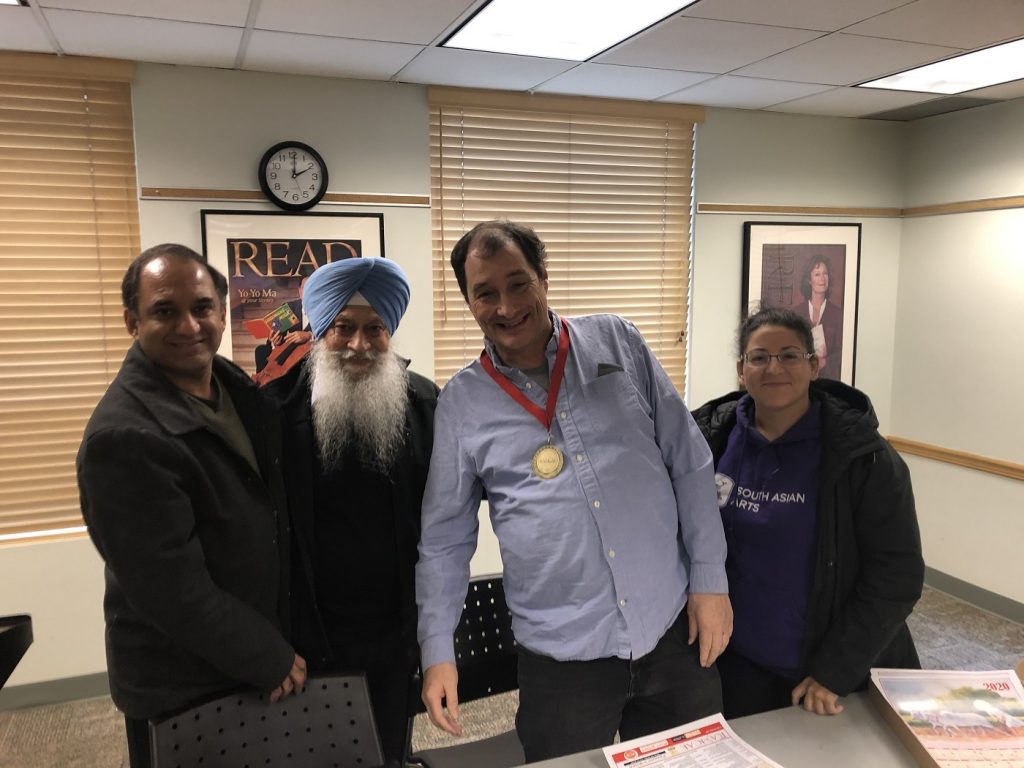 Smith was also honoured on the occasion with the Radical Desi medal of courage for standing up against bigotry by anti-racism activists, Annie Ohana and Avtar Singh Dhillon. Whereas, Ohana is an anti-racism educator, Dhillon has been fighting for the right to wear turban at workplaces in Canada.
The event was started with a moment of silence for Zofia Cisowski, a Polish woman from Kamloops who passed away recently. Her son Robert Dziekanski was tasered to death by the RCMP at Vancouver Airport in 2007. She had fought for justice and became an icon of human rights struggles in Canada.
Guru Nanak himself was a human rights defender and a revolutionary who had challenged the barbarity of the state. The speakers were unanimous in their views that the legacy of Guru Nanak has become even more relevant today with the rise in racism and hate all over the world. They emphasized that the repressive governments across the globe need to be made accountable as a fitting tribute to Guru Nanak under these difficult times.
Smith who was honoured for refusing to interview Peoples' Party of Canada Leader Maxime Bernier for his racist views noted that Guru Nanak was way ahead of his times and by teaching his followers to respect Mother Earth and denouncing discrimination on basis of caste, colour and gender had laid the foundation for a just society.
Others who spoke on the occasion were Sukh Dhaliwal, Annie Ohana, Rachna Singh, Sikh activist Kulwinder Singh, IAPI member Sayyad Wajahat and Pakistani activist Furquan Gehlen.
Gehllan had brought with him postcards addressed to Prime Minister Justin Trudeau asking him to break his silence on Kashmir. The Indian part of Kashmir has been under a lockdown since August 5. The participants signed the postcards at the event that coincided with the martyrdom day of the ninth master of the Sikhs, Guru Teg Bahadur, who had laid down his life for Kashmiri Hindus.