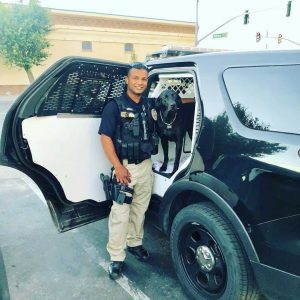 AT approximately 1 a.m. on Wednesday (December 26), Corporal Ronil Singh of the Newman Police Department, California, was shot and killed during a traffic stop. A manhunt is currently underway for Singh's killer.
Singh, a K-9 officer, had been with the Newman Police Department since July of 2011 and was only 33 years old. He leaves behind a wife and a five-month-old son.
According to media reports, Singh's parents and brother currently live in Fiji and are on their way to California.
The Stanislaus Sworn Deputies Association has established a Corporal Ronil Singh, Newman PD Memorial Fund. Donations can be made in person at any West America Bank Branch to the Corporal Ronil Singh Memorial Fund or online at https://www.stanislaussworn.com/donation.html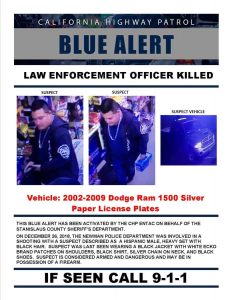 Media reports say the suspect's truck was found outside the city of Newman in a mobile home park.
Singh conducted a traffic stop on the pickup truck. He gave a description of the vehicle, and said that the truck had paper plates from AR auto. Just after that, the officer called in for shots fired.
Media reports say several deputies from Stanislaus and Merced counties responded. Singh was found lying on the ground. He was taken to a nearby hospital but died from his injuries.
The suspect is believed to be armed and very dangerous.
Detectives have photographs of the suspect and are asking anyone with information regarding the identity of the suspect to contact Detective Michael Fisher at 209-525-7083 or dispatch at 209-552-2468.
Police Chief Randy Richardson said: "He was an American patriot. He was not born in this country but came to this country for one purpose — to serve this country."
English was not his first language — it was his third — and Singh put himself through speech classes because he wanted his radio traffic to be understood, CNN reported.
Singh's K9 dog, Sam, was with him the night he was shot, and will remain with his family — and be retired.
If you have any tips, you can leave an anonymous tip by calling Crime Stoppers at (209) 521-4636. Tipsters can also e-mail tips at http://www.modestopolice.com/CrimeStoppers.