(By Sanjha Vehra Women's Association)
SANJHA Vehra Women's Association is an active organization among South Asian women in the community. It is a support group and open forum for all women, where they can come to share their stories and receive information on a variety of health and everyday issues.
We have been in operation since 2002. This year we are celebrating our 21st Anniversary. We are very proud of our achievements since our inception, but the following are the special ones during the COVID period.
Due to COVID, getting together for our Annual Breast Cancer Fundraiser in a banquet hall during the breast cancer awareness month of October was not feasible. We carried on with raising funds without any individual contact for the Surrey Hospitals Foundation for the Breast Health Clinic at the Jim Pattison Outpatient Care and Surgery Centre in Surrey. We opted to raise funds virtually and in 2020 we donated $10,000. We donated $12,100 in 2021 and $12,000 in 2022. Since 2005, we have donated a total of $164,770 for this worthy cause.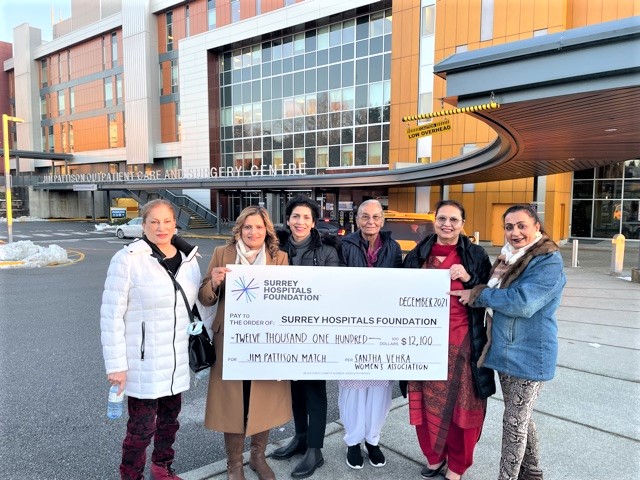 An innovation of weekly Zoom Meetings surfaced to replace in-person monthly meetings to avoid isolation of members and to keep in touch with them. These weekly zoom meetings have been so successful that this innovation is still carrying on.
To make a good use of time while staying indoors, one of our members came up with a unique idea of organizing a knitting group where various members knitted squares to make a blanket which was donated to homeless people. The experienced knitters came forward and knitted so many hats, bootees and cardigans for babies to sell and raise funds for donations at various stalls. The knitting group is still very active.
Last but not least, a program of mobile screening was arranged at the parking lot of Guru Nanak Sikh Temple and the Indo-Canadian Seniors Center on January 30 and January 31, where more than 50 women got screened for their mammogram. This was a joint effort of Sanjha Vehra Women's Association, the women of the Indo-Canadian Senior Center with BC Cancer Mobile Screening.