BY RATTAN MALL
CHAMPION powerlifter Sumeet Sharma was recently honoured by Khalsa Diwan Society's Ross Street Gurdwara in Vancouver for being an inspirational role model for youth in schools across the Lower Mainland.
The VOICE featured Sumeet, who works in BC Corrections, last November after he bagged a gold medal for Team Canada at the North American Powerlifting Championships in Panama City last October.
Powerlifting is a strength sport that consists of three attempts at maximum weight on any of three lifts: squat, bench press, and deadlift. Sumeet pulled off this gold medal win in bench press with an impressive 370 pounds. He bagged gold in both 2017 and 2018 at the Western Powerlifting Championships. He also placed 4th in powerlifting in Canada in 2018.
And in March he will be heading for Winnipeg to compete at the nationals. If he performs well, he will then head for the international event in the Czech Republic in May.
Sumeet was featured on Surrey radio stations and he expressed his desire to reach out to school kids. Some teachers then invited him to their schools and ever since he's been busy inspiring kids in Richmond, Abbotsford and Surrey, talking about his struggles and achievements.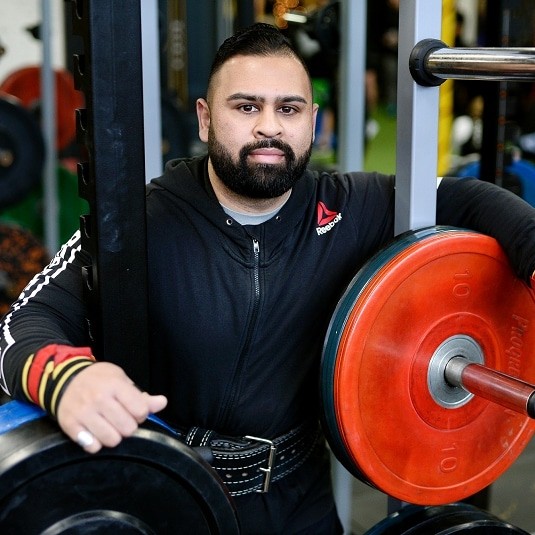 "I was just one of those kids in high school that was quite overweight and ate deep-fried food and bought lunch from vending machines," he said. "When I went to Douglas College, I took some health science classes and that really changed my perspective. I started talking to trainers, instructors and getting into fitness. I was about 210 lb. With dieting and eating right I went down to 173 lb within six to eight months."
He added: "I talk to the kids about my four years of powerlifting with all the championships I've won – like losing and winning and telling them what I went through to get the gold medal."
But he pointed out: "I am not telling these students you should go into powerlifting, but I am telling them that my dream had always been to win a gold medal for the country and I've done it. And if I can do it, you guys can do it – whether they want to be a doctor or a lawyer or a nurse or a businessperson, whatever."
The Ross Street Gurdwara heard about this and honoured him with an award.