SHER Vancouver hosted its popular year-end Christmas gala early this year on Friday, November 29 at the Aria Banquet Hall in Surrey.
There was a packed house with over 140 guests including Penny Priddy (former Surrey Councillor, MLA and MP), MP Sukh Dhaliwal, Ministers Adrian Dix and Bruce Ralston, MLAs Rachna Singh, Jinny Sims and Garry Begg, and former Vancouver School Board trustee Carrie Bercic.
Adalat Omar, a professional Middle Eastern belly dancer who incorporates traditional Uighur and Bollywood dances in her performance, was the highlight of the night with her energetic, graceful 20-minute routine.
Sher Vancouver said it likes to provide a platform for women and minorities to have a voice whenever possible. So, the MLA for Surrey-Green Timbers, Rachna Singh, opened the event with her comments, and the MLA for Surrey-Panorama, Jinny Sims, followed with a heartfelt tribute to Sher Vancouver founder Alex Sangha's mother, Jaspal Kaur Sangha.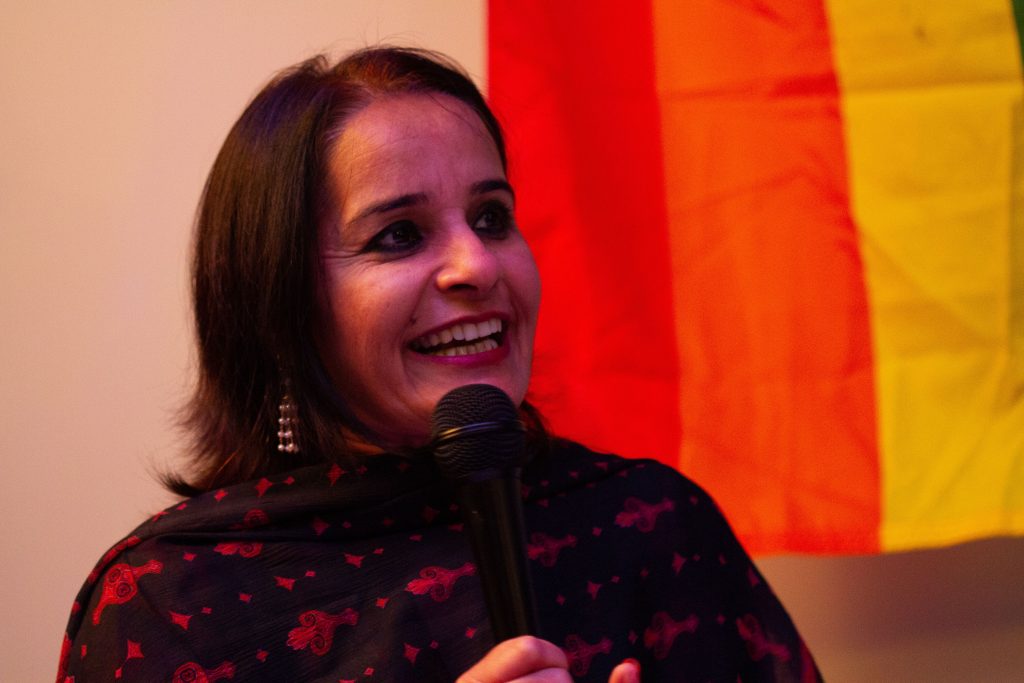 YouthCO sponsored the Sher Christmas this year by making a generous financial donation which allowed Sher to offer free tickets to low-income youth. YouthCO also provided 25 goodie bags. YouthCO is a peer-led agency working to reduce the impact of stigma related to HIV and Hep C. Sher Vancouver thanked Ivan Leonce of YouthCO for making this sponsorship happen for the second year in a row.
Also in attendance were Cpl. Elenore Sturko and members of the Surrey RCMP, Ravi Basi (Manager of Multicultural Services), Meghan Savage (Manager of Guildford and Port Kells libraries), Renee Saklikar (Surrey's First Poet Laureate) from Surrey Libraries, Lance and Jas from Health Initiative for Men (HIM), Ariel Yu and Ofir Vaisman of No Fear Counselling, Erjon Tela from DIVERSEcity Community Resources Society, Susan Ruzic from the BCTF, Annie Ohana from Mustang Justice, Satbir Thind from Sattea Loose Teas, Rajeev Mohindru of the Progressive Intercultural Community Services Society, Sister Fancy Pants and Sister Diversity Rains from the Sisters of Perpetual Indulgence, and Stephanie Goodwin from Out on Screen and the Vancouver Queer Film Festival.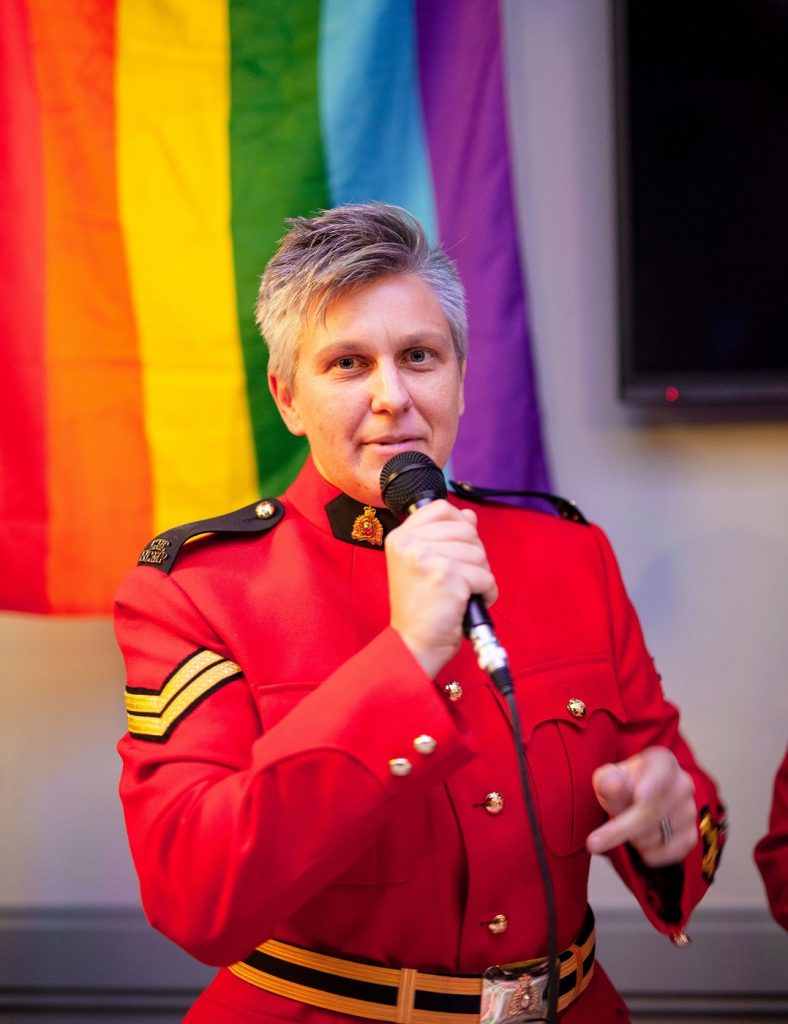 Elenore Sturko, who is the Media Relations Officer of the Surrey RCMP, presented Alex with a "challenge coin." A challenge coin is one of the highest honours that a member can give to another person. The challenge coin is believed to have its origins in World War I where they were used to identify allied soldiers, and in some cases save them from execution from the enemy. The challenge coins are for protection and a symbol of honour.
Alex also presented many of the official sponsors, community partners, and long-time volunteers and supporters of Sher Vancouver with an Equality Coin. The Equality Coin was issued by the Royal Canadian Mint to mark the 50th anniversary of the decriminalization of homosexuality. Local celebrated artist Joe Average designed the coin.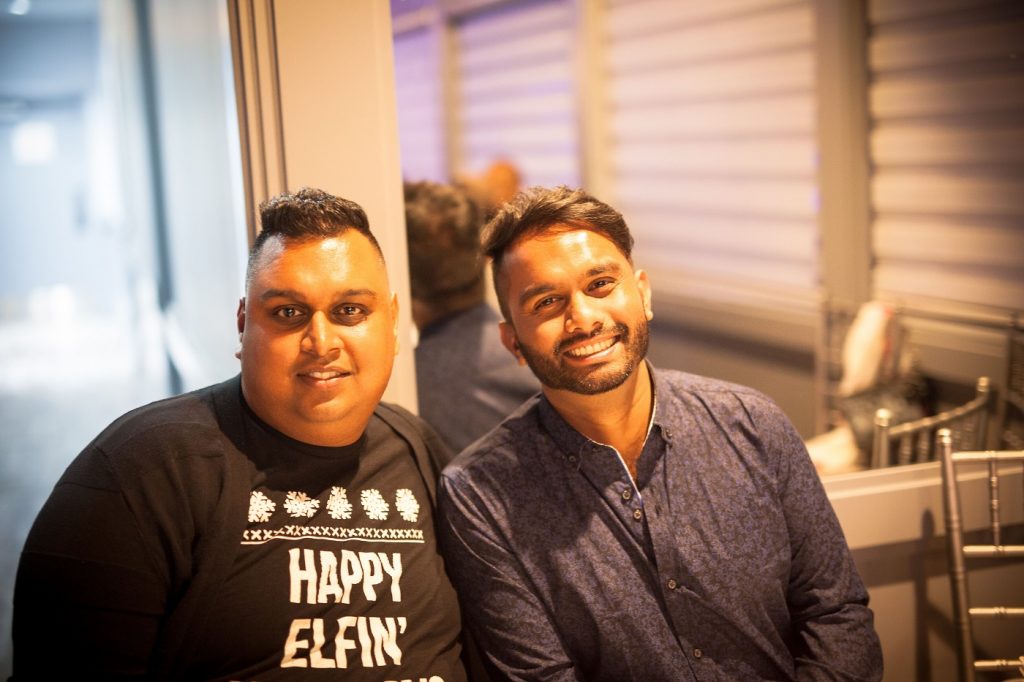 Ofir Vaisman and Ariel Yu of No Fear Counselling were also honored by Sher Vancouver for their contribution to the Courage Fund. No Fear Counselling donates 100 sessions of free counselling every year to members of Sher Vancouver who are in crisis and distress. This is a lifesaving program that provides critical support. No Fear Counselling has 74 professional Masters-level counsellors in multiple locations who speak multiple languages throughout Metro Vancouver. Sher Vancouver provided Ofir and Ariel with a Certificate of Appreciation and two colourful artwork prints donated by local graphic designer and illustrator Jag Nagra of http://www.turntopage84.com/.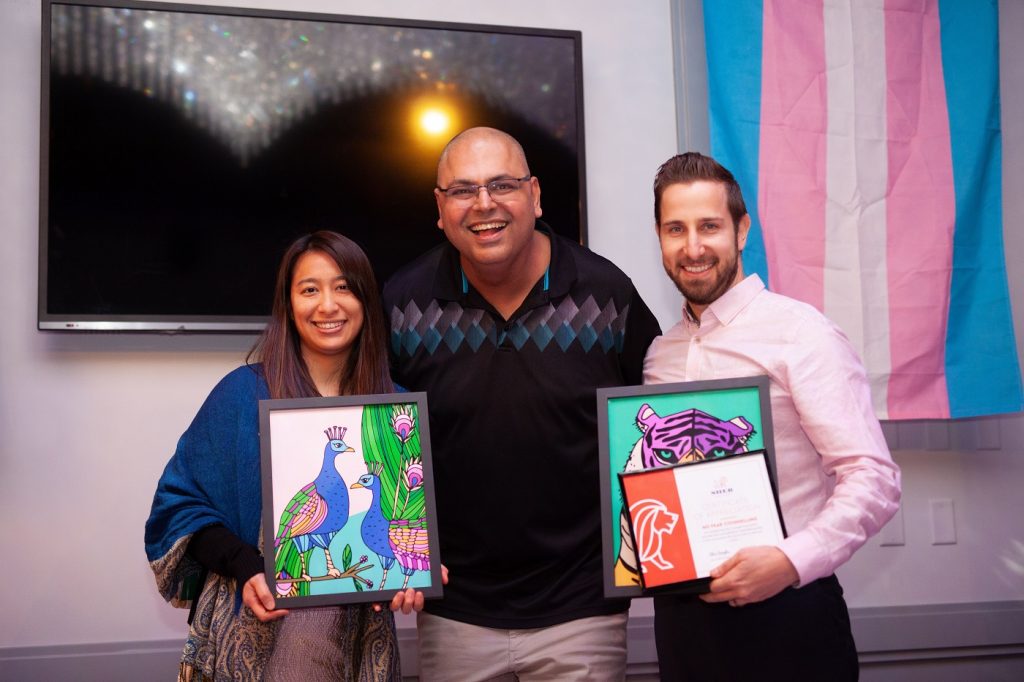 "Sher is a grassroots community-driven non-profit that depends on great people like each and every one of you to carry out our programs and services in the community," said Alex.