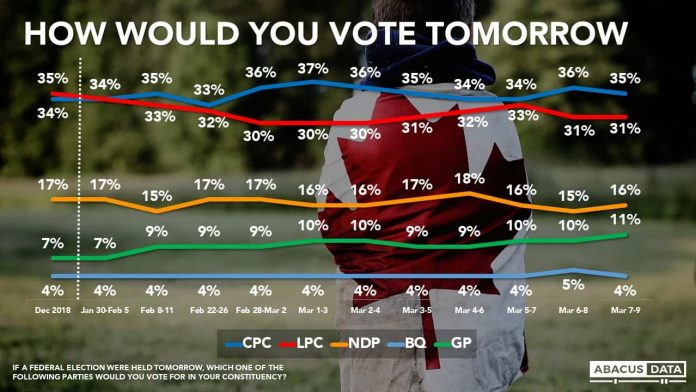 Since February 28, Abacus Data has been interviewing 300 people each day and rolling three days of data into a snapshot of public opinion over those three days.
Over the three days, they interview a representative sample of 900 Canadian adults online. The comparable margin of error is +/- 3.3%, 19 times out of 20. Each wave is weighted to match the Canadian population by age, gender, region, language, and educational attainment.
Here's a quick look at some of the dynamics its tracking has captured:
THE Conservatives have a slight lead over the Liberals. Based on the sample size, there's an 89% chance the Conservatives are in the lead. There's an 11% chance the Liberals are ahead.
Prime Minister Justin Trudeau's personal image remains in the red. The gap between those with a positive view and those with a negative one has persisted since former Minister of Justice and Attorney General of Canada Jody Wilson-Raybould's testimony.
But Conservative Leader Andrew Scheer's image hasn't benefited from the SNC-Lavalin controversy. Those with a positive view of the Conservative leader has dropped 5 points since Wilson-Raybould's testimony.
Federal NDP Leader Jagmeet Singh has seen almost no change in impressions over this period, which also included his by-election win in Burnaby South at the end of February.
By Saturday, Trudeau had opened up an 8-point lead over Scheer on who Canadians would prefer as PM after the next election.
Attention to the controversy hasn't really changed since Wilson-Raybould's testimony. All the movement is within the comparable margin of error.
The percentage of those thinking Trudeau should resign as PM has declined over time. Yesterday, 34% were inclined to say "yes" he should resign, the lowest Abacus Data has tracked since February 28.