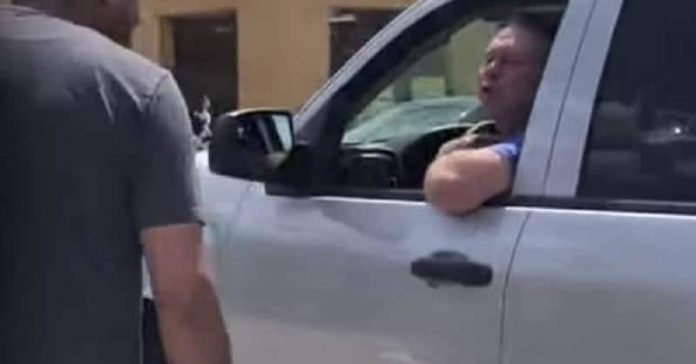 ONTARIO'S Hamilton police are investigating an incident that occurred on July 27 (Friday) in a Walmart parking lot in which a white male was caught on video shouting blatant racist comments at a South Asian couple as a hate crime.
Police have charged Dale Robertson, 47, of Stoney Creek, with threatening death, dangerous driving and failing to remain at the scene.
A video posted on YouTube shows the driver apparently hitting the person filming the incident. He mocks the South Asian's accent when the man says, "You want me to go to my own country? I'm a Canadian citizen." The driver says in a stereotypical South Asian accent, "You don't talk like a Canadian."
The driver says: "I'm racist as f–k. I don't like you, I don't like her. … I would kill your children first,"even as he drives away, too scared to get out of his vehicle and face the South Asian man.
According to Patryk Laszczuk, who posted the video on YouTube, the South Asian man is his coworker. The altercation took place when the couple, while trying to back into a parking spot, evidently got in the racist man's way.
When Laszczuk's coworker sent him the video, he told him he needed to share it and put it up on YouTube and Facebook.
Police told the media that a victim sustained minor injuries. The investigation has been forwarded to the police hate crime unit for review.
ON July 23, a white man confronted two men (who appear to be Muslims) as they walked with their family at the Jack Layton Ferry Terminal located at 9 Queens Quay West. The man repeatedly yelled at the men. He assaulted and threatened one man and assaulted the other man. The whole incident was caught on video.
The Toronto Police announced on July 27 that they wanted to "make the public aware of an arrest made in a suspected hate-motivated crime investigation." They said Lombray Ball, 50, of Toronto was arrested on July 26 and is charged with two counts of assault and threatening death.