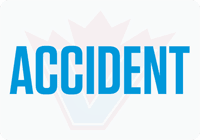 ON Saturday, February 29 just after 2 a.m., a 29-year-old Port Coquitlam male resident was riding southbound on the Coast Meridian Overpass on his cycle and was struck and killed by a vehicle travelling eastbound on Kingsway Avenue in the intersection.
The involved driver is cooperating with police and at this point in the investigation police do not believe that impaired driving played a role.
The Criminal Collision Investigation Team attended the scene and is investigating. ICARS also attended and conducted a thorough examination of the scene.
"Regardless of who is ultimately at fault in a collision, it is up to everyone on the road to keep an eye out for other road users and potential hazards. Never assume that because you have the right of way or because you can see someone else that they see you or that everyone will stop for you. Follow the rules of the road and be particularly aware of your surroundings when passing through an intersection," said Sgt. Quentin Frewing of the Criminal Collision Investigation Team.
Upon police arrival it was learned that there may have been some witnesses who left before police attended. The Coquitlam RCMP are requesting that anyone who witnessed the collision call the Coquitlam RCMP at 604-945-1550 and ask for Constable Bryan Battel.