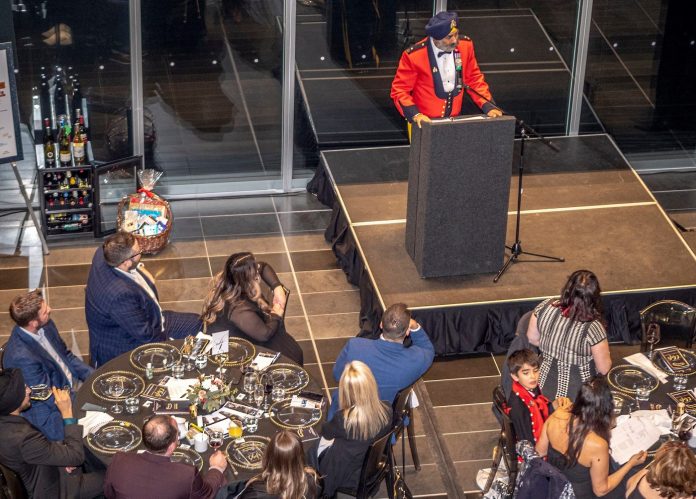 ON Saturday, November 2, 120 guests turned out in support of the 6th Annual Chefs' Charity Dinner held in the atrium of Surrey City Hall and raised $42,755 for Dan's Legacy. The funds will go towards the charity's trauma-informed counselling and life-skills programs for at-risk youth.
CBC Radio Host Angela Sterritt returned for the second year in a row as the gala MC, and new to the event was Sam Garandza, BC's reigning Champion Auctioneer who led the silent auction. Chef Bruce Nollert and Chef TJ Conwi (Ono Vancouver), Chef Shay Kelly (The Caterer), Chef Warren Chow (Juniper Kitchen & Bar) and Pastry Chef Alannah Peddie (Frolic & Forage) created the entire menu using only surplus food.
Dan's Legacy's Program Director Tom Littlewood, and the organization's newest Board member, retired RCMP Inspector Baltej Singh Dhillon, spoke about the urgent need for more harm prevention strategies to save lives and build stronger, safer and more resilient communities.

Dan's Legacy's youth client Destiny shared her heartbreaking but powerful story of how her therapist helped her overcome an abusive past through trauma-informed counselling, and was also there supporting her in many other ways.
"All of our wrap-around supports help our clients maintain their stability and start meeting the potential we know they have," says Barbara Coates, Dan's Legacy's Executive Director. "As Destiny said in her speech, 'The only time you should be looking down on someone is when you're helping them get back up.' That's what we do at Dan's Legacy and we're grateful to Destiny for the courage it took for her to share her story. Now other youth who need help will know who to contact."
Among those in attendance at the gala were Chief Rhonda Larrabee from the Qayqayt First Nation, Bruce Ralston, Minister of Jobs, Trade and Technology, and Surrey MLA Marvin Hunt. Judy Darcy, Minister of Mental Health and Addictions, sent a video message of congratulations and support. 
If you missed the gala but would like to support Dan's Legacy, or if you know someone who is asking for help, visit www.danslegacy.com or call Tom Littlewood (Program Director) at 604-999-9136 or Barbara Coates (Executive Director) at 604-329-9186, or barb@danslegacy.com.