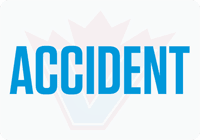 DELTA Police say they notified the family of the train collision victim of his passing away on Sunday morning. The dead man, who was in his 40s, was from Vancouver. Police say no further information regarding the victim will be released at this time.
At approximately 3:20 p.m. on Saturday (January 12), Delta Police were called to the scene of a collision between a truck and train in the 4600-block of 72nd Street, an area known as the Churchill Railway Crossing.
"Unfortunately the driver of the truck did not survive the crash," says Cris Leykauf, spokesperson for Delta Police. The driver was dead at the scene.
The crash scene was complex as the truck was pushed a significant way down the track by the train. Police were on scene until 3:45 a.m. on Sunday, conducting the initial investigation, which was led by the Traffic Services with the assistance of the Forensics Investigative Services Section.
Delta Fire Department, CN Rail, and BC Hydro were among the other agencies which attended the scene.
According to CN Rail, the crossing is equipped with active warning devices, which were working at the time of the incident.
The cause of the crash is currently under investigation, and there is no clear indication of what led to this tragic outcome.