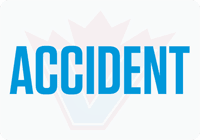 ON Wednesday, September 22, at approximately 3:15 p.m., Abbotsford Emergency Services responded to a collision on Mt. Lehman Road between Great Northern Way and Progressive Way.
Emergency service personnel located a collision involving a pick-up truck and a sedan-type vehicle. The passenger of the sedan has succumbed to his injuries and the driver was taken to hospital in serious condition. The driver of the pick-up truck was transported to hospital for minor injuries.
Abbotsford Police patrol officers and the Integrated Collision Analysis and Reconstruction Service (ICARS) remain on scene. Mt. Lehman Road is closed between Great Northern Way and Progressive Way. Police want you to avoid the area to allow investigators to work safely.
If you were near the 2500-block of Mt. Lehman Road today between 3 and 3:30 p.m. and have CCTV or dashcam video or witnessed this collision, you are requested to contact the Abbotsford Police Department at 604-859-5225.