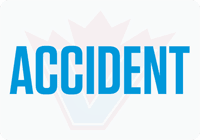 ON Friday at approximately 7:21 p.m., the Surrey RCMP responded to a person lying on the ground in the 8000-block of 144 Street.
Police determined that this was a pedestrian-involved motor vehicle collision.
BC Ambulance Service and Surrey Fire Department personnel attended and pronounced the pedestrian deceased at scene.
The driver of the involved vehicle remained on scene.
Surrey RCMP's Criminal Collision Investigation TEAM (CCIT), with the assistance from the Integrated Collision Analysis and Reconstruction Service (ICARS), is investigating this collision.
Traffic in the area will be affected for an undetermined time as officers continue their investigation.
Traffic on 144 Street will be shut down at 82 Avenue to the North and at 80 and 79 avenues to the South.
The public is asked to avoid the area until further notice.
Anyone who may have witnessed the collision is asked to contact the Surrey RCMP at 604-599-0502.
If you wish to remain anonymous, contact Crime Stoppers at 1-800-222-TIPS or www.solvecrime.ca.