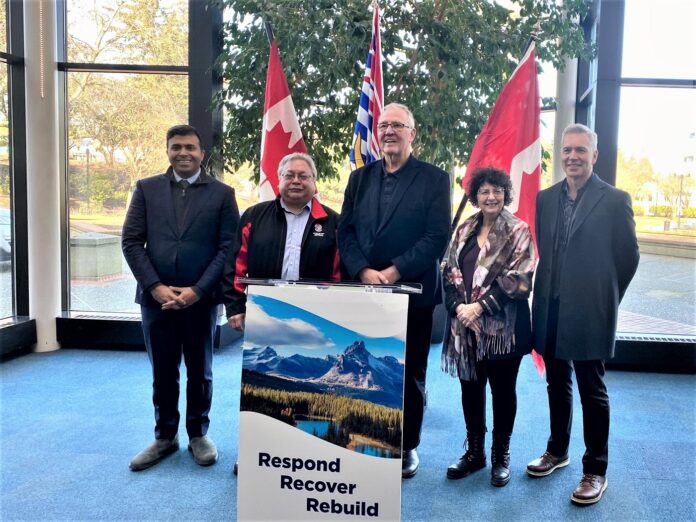 BILL Blair, federal Minister of Emergency Preparedness, on Thursday announced a second advanced payment of $556,955,880 to British Columbia through the Disaster Financial Assistance Arrangements (DFAA) program to assist with recovery costs associated with the 2021 storm.
This payment brings the total amount of federal payments to British Columbia under the DFAA to over $1 billion for the November 2021 floods.
Eligible expenses under the DFAA include, but are not limited to, evacuation operations, restoring public works and infrastructure to their pre-disaster condition, as well as replacing or repairing basic, essential personal property of individuals, small businesses, and farmsteads.
The Government of Canada said it is committed to supporting Canadians and helping communities prepare for the realities of increased climate-related risks and disasters, while working to increase resiliency.
Blair said: "The Government of Canada has been working closely with the province, municipalities and First Nations to recover and rebuild following the devastating flooding that took place in November 2021. This payment is another important step in building back from this event in a way that better protects British Columbians."
Bowinn Ma, B.C.'s Minister of Emergency Management and Climate Readiness, said: "The devastating impacts of the 2021 atmospheric river event continue to affect people and communities across British Columbia. We've made strides in our efforts to recover and strengthen resilience, but we know there's still more to do. The path forward is through collaboration with First Nations and local, provincial and federal governments. We're thankful to the federal government for its support, which will allow us to continue our work supporting communities as they rebuild and recover."
Abbotsford Mayor Ross Siemens said: "The City of Abbotsford is grateful to the Government of Canada for their significant investment toward ensuring our communities have the funding they need to recover from the impacts of this unprecedented extreme weather event. More than a year later, repair efforts remain part of our daily lives in Abbotsford, and there is still much work that needs to be done to ensure our families, farmers and businesses are safe and provincial food system is secure. This funding is an important piece of our overall recovery, resiliency and protection efforts."