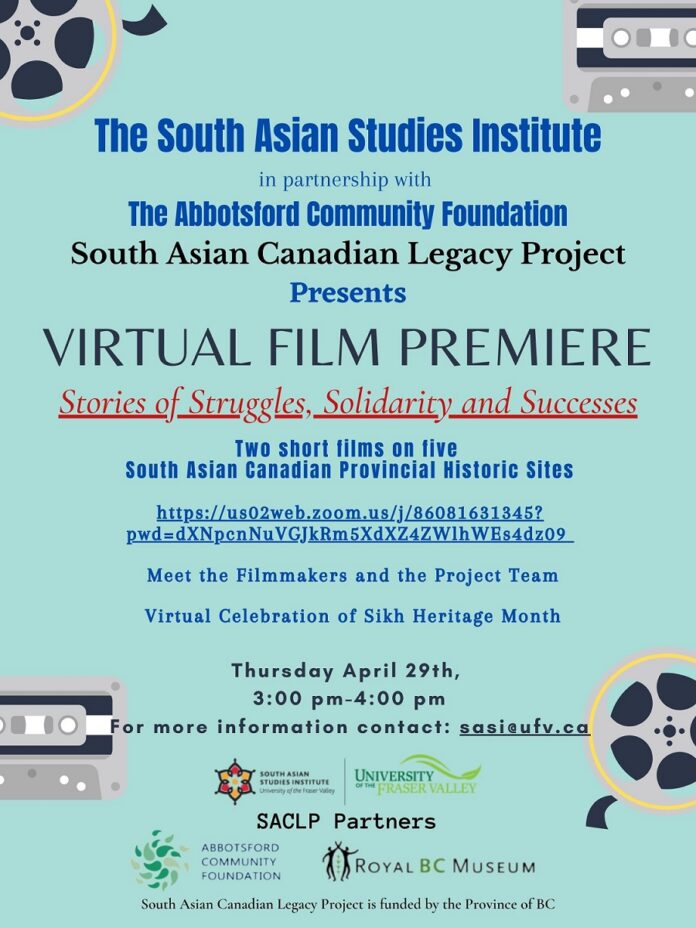 THE South Asian Studies Institute (SASI) at the University of the Fraser Valley (UFV) will premiere two short films on five South Asian Canadian Historic Sites in British Columbia to mark Sikh Heritage Month on April 29 from 3 to 4 p.m. as a virtual event that is open to all.
The two films are made by three young local filmmakers and the event is organized in partnership with the Abbotsford Community Foundation. The films are produced under the South Asian Canadian Legacy Project funded by the province of B.C. George Chow, Minister of State for Trade, will be the guest of honour at this event.
One of the short films was presented to a select audience by Premier John Horgan on April 13 to mark Sikh Heritage Month at a Vaisakhi event organized by the Premier's office.
The films highlight the political, social and geographic diversity of the nominated places. The stories showcase diverse types of places, including buildings, streetscapes, places related to community and politics, as well as cultural, spiritual, social, and educational places.
In 2017, the province of BC, through a public nomination process officially recognized 15 sites under the Heritage Conservation Act that have connections to the South Asian Canadian community and that have contributed to the history and development of the province. Nominations were evaluated by community and sector experts and a list of places recommended for official recognition by the Province of B.C. as part of the South Asian Canadian Historic Places Recognition Project
The South Asian Studies Institute's Director Dr. Satwinder Kaur Bains says, "The historic sites in the film symbolize the resilience and courage of early settlers to B.C. from South Asia as well as highlighting the fight for justice against many odds. These films poignantly tell the stories that evoke pride, empathy and courage for us and future generations."
The virtual film launch features reflections by filmmakers, and an opportunity for participants to discuss why the stories continue to matter today, poignant reminders of our rich and robust history of activism, perseverance, and sacrifice.
To join the event, click on the zoom link here.  
For more information, contact sasi@ufv.ca or call 604-854-4547.