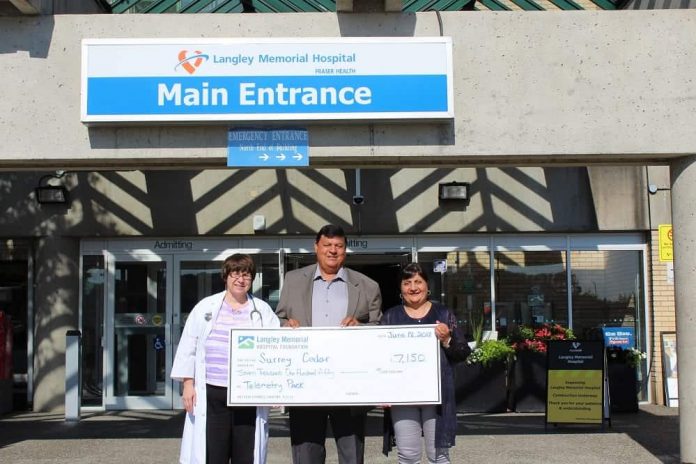 WHAT at first appeared to be simple indigestion ended with a surgery that gave Langley's Amrik Bath a new lease on life.
Amrik and his wife, Parminder, long-time residents and owners of a local business always knew they had a local hospital they could rely on, but they had never needed it until 2006 when Amrik started experiencing chest pain that could not be ignored.
As Parminder watched her husband's pain increase, she realized she didn't want to take any chances. A visit to Langley Memorial Hospital's Emergency Department confirmed the worst of her fears – Amrik had suffered a major heart attack and needed life-saving surgery.
Referred to Royal Columbian Hospital by Dr. Rita Wittmann, doctor of internal medicine and respirology at Langley Memorial Hospital, Amrik received a cardiac stent in a procedure that revealed one artery was 95 per cent clogged and two others would need treatment as well. A triple-bypass surgery was required but as Amrik was put on the waiting list he was released from hospital and told to await his surgery at home.
With such a serious diagnosis the Bath family was understandably apprehensive about waiting for the surgery at home. Dr. Wittmann worked with the family to find a solution, ensuring Amrik was able to stay in Langley Memorial's critical care unit where he could be closely monitored until his surgery.
Forever grateful, Amrik recognizes how important Dr. Wittmann was to his care and ensuring he received the medical support he needed before and after surgery.
"She was a great comfort," says Amrik. "Even now, whenever we have a question or a concern, she is there. Even though she has hundreds of patients she always recognizes us and takes time to listen."
Blessed with a decade of good health since his diagnosis, Amrik has cherished every opportunity to chase after his five grandchildren and jump up and cheer at their many sporting events.
In recognition of the good treatment the Bath family received that day, and all the following years since, they recently made a $7,150 donation through their business, Surrey Cedar, to purchase cardiac equipment – a telemetry pack and a Holter monitor – for the Critical Care Unit at Langley Memorial.
"We've lived in Langley since 1996 and it's our grandchildren's birthplace and the home of our staff and customers. Whatever we can do to help – we are there."
Parminder and Amrik are also thrilled to know that a larger, updated Emergency Department is coming to their community in 2020.
"We really do need a bigger Emergency," explains Amrik. "The care is excellent and the staff is all very caring – no matter what you come in for. But the waits are long and the space is cramped. We want to see a space that works for the staff and better supports everyone in Langley."