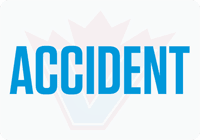 ON Tuesday (April 9), at approximately 7:50 p.m., Surrey RCMP received multiple 911 calls reporting a motor vehicle colliding with a building in the 13200-block of King George Boulevard. RCMP along with B.C. Ambulance and Surrey Fire Department attended the scene.  A grey Honda Civic, driven by a female driver of Surrey, had gone off the roadway, and collided with a building, badly damaging an exterior wall.
A male working inside of the building had part of the wall collapse onto him.  Both the driver and the male working in the building were transported to hospital with minor injuries.  The driver has been released from the hospital, and is speaking with the police.
The matter is still under investigation.  Speed and impairment have not been ruled out as contributing factors in this collision.
Surrey RCMP are seeking the public's assistance and are asking anyone who may have witnessed the collision or have video surveillance or dash cam video to call them at 604-599-0502 or Crime Stoppers in reference to Surrey File # 2019-050385.