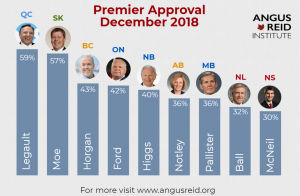 QUEBEC and Saskatchewan Premiers Francois Legault and Scott Moe have each received an early Christmas present in the form of majority job approval ratings from their respective electorates, according to Angus Reid Institute's quarterly survey of Canadians.
Legault, whose Coalition Avenir Quebec formed a majority government this past October, ends 2018 with the not-uncommon bump afforded provincial leaders early in their mandates. Six-in-ten (59%) Quebecers approve of his efforts as premier. Statistically, the same number (57%) feel the same way in Saskatchewan about their premier Scott Moe, on the job for almost a year.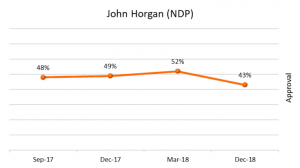 British Columbia Premier John Horgan's year has largely consisted of unyielding interprovincial political tension with Alberta over the TransMountain pipeline expansion project, and tumult over his minority NDP government's referendum on proportional representation. The latter – part of the grand political bargain made with the BC Green party in order to secure the "supply and confidence" agreement New Democrats needed to take power in the BC Legislature. 2018 was also the year that saw the go-ahead for a $40 billion investment in a liquefied natural gas project in northern British Columbia. Horgan's job performance approval has softened since the 2017 election, but he but he still holds the approval of 43 per cent.