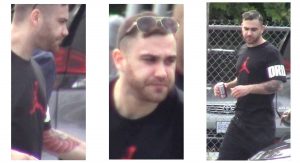 THE hunt for Brandon Nathan Teixeira, who is wanted by the Integrated Homicide Investigation Team (IHIT) for the October 2017 murder of Nicholas Khabra in Surrey, has intensified and police have released more photos of him.
IHIT announced on Friday that it is seeking public assistance to locate and arrest the 27-year-old Teixeira for murder.
On October 23, 2017, at 2:10 a.m., Surrey RCMP received a report of shots fired from the 14300-block of Crescent Road. When police arrived, a male victim was located suffering from gunshot wounds and was transported by the British Columbia Ambulance Service (BCAS) to hospital where he later died.
A female victim was wounded in the shooting. IHIT Cpl. Meghan Foster said at the time that Khabra and the female victim were known to each other and were together at the time of the shooting. She added: "The investigation to date leads police to believe that Mr. Khabra's homicide was a targeted act."
Just after the initial report to police, a second report to police was made from a female victim who said that she too had been shot. Police located the victim a short distance away on Highway 99 at exit 10. She was also transported by BCAS to hospital for treatment.
Shortly after the homicide occurred, a vehicle was recovered in Langley after it was deliberately set on fire.
Last week, on September 6, Teixeira was charged with first-degree murder and a warrant was subsequently issued for his arrest.  He remains at large and is believed to be somewhere in the Lower Mainland of B.C.
Investigators have learned that Teixeira has associates in Edmonton and Calgary and are urging residents there to also be on the lookout for him.
Teixeira is described as white, 178 cm (5'10), 73 kg (161 lb), brown eyes, brown hair, with a snake tattoo on left side of chest, and a sleeve tattoo on left arm.
"IHIT continues to actively track down Brandon Teixeira as he poses a danger to the safety of the community.  It is imperative that we find him and bring him before the court so that he can be held accountable for his first degree murder charge," said IHIT Cpl. Frank Jang.  "We remind the community to please call 911 immediately if you see Brandon Teixeira."
Anyone with information is asked to contact the IHIT Information Line at 1-877-551-IHIT (4448) or by email at ihitinfo@rcmp-grc.gc.ca.
Should you wish to remain anonymous, contact Crime Stoppers by phone at 1-800-222-TIPS (8477).