PATIENTS now have better access to faster, safer and more effective treatments for acute strokes with the opening of a new angiography suite at Royal Columbian Hospital.
The suite includes new imaging equipment that allows interventional radiology teams to better understand what is happening in a patient's arteries, veins, blood vessels and organs following a stroke or due to other injury or illness. The benefits include higher resolution and image quality, more flexibility, and a significant reduction in radiation exposure to both patients and staff during procedures.
"When treating acute stroke cases, every minute counts," says Royal Columbian Hospital neuro-interventional radiologist Dr. William Siu, who is also a member of the Royal Columbian Hospital Foundation's Board of Directors. "Immediate access to an angiography suite upon arrival is critical, especially as Royal Columbian is one of a small number of hospitals in the province with the expertise and equipment to deliver the most advanced minimally invasive treatments for acute strokes."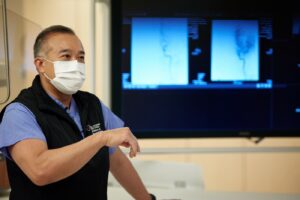 Donors to Royal Columbian Hospital Foundation provided nearly $2 million in funding for the new angiography suite.
In addition to acute stroke care, the new angiography suite will be used for a wide range of emergency procedures to stop internal bleeding, remove clots from lungs, open narrowed blood vessels, and treat cancers. The improvements to the suite replace imaging equipment that was nearly two decades old. With the upgrade, the hospital has three angiography suites, including a Multipurpose Interventional Suite that opened in 2012 with $2.8 million in donor funding to support specialized care for cardiac, stroke and aneurysm patients.
Royal Columbian performs all of the Fraser Health Authority's minimally invasive procedures for strokes and aneurysms. These include thrombectomies to treat ischemic strokes, where an artery in the brain or an artery carrying blood to the brain becomes blocked. During a thrombectomy, a physician guides a catheter into the blocked artery to grab the blood clot and "suction" it out. Royal Columbian is one of only four hospitals in British Columbia that performs this procedure.
"Along with making sure our medical teams have the tools they need right now, this project also supports the new Acute Care Tower currently under construction as part of the hospital's redevelopment," says Royal Columbian Hospital Foundation President and CEO Jeff Norris. "The tower includes an entire floor for interventional services. The equipment our donors have just funded will move to the new building when it is complete in 2025."
The Acute Care Tower is the 'crown jewel' of Royal Columbian Hospital's $1.49 billion multi-phase redevelopment. Along with an interventional super floor with operating rooms and interventional radiology and cardiology suites, the multi-storey tower will include a new Emergency Department with its own imaging unit, new larger maternity, pediatric, and neonatal intensive care units, and multiple floors for acute and critical care patients.  The first phase of the hospital's redevelopment saw the opening of a Mental Health and Substance Use Wellness Centre in the summer of 2020.