MARY Ng, federal Minister of International Trade, Export Promotion, Small Business and Economic Development, earlier this month participated in an interactive session organized by the BC-India Business Network (BCIBN) in Vancouver.
Indian Consul General Manish, board members of the BCIBN, business leaders and officials took part in the event on July 5. Vivek Savkur, Founder and President Emeritus of BCIBN, welcomed Ng and the guests.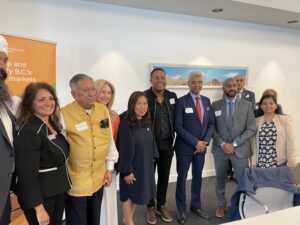 Manish presented an overview of the state of the Indian economy, which is the fastest growing economy in the world, and of the Canada-India bilateral economic relations, and the role of British Columbia in the bilateral trade with India.
Ng gave an overview of her visit to India last March for the 5th Ministerial Dialogue with her counterpart Piyush Goyal and the agreement to re-launch the negotiations for India-Canada Comprehensive Economic Partnership Agreement (CEPA).
She also highlighted the ongoing discussion between India and Canada to complete the Early Progress Trade Agreement (EPTA).