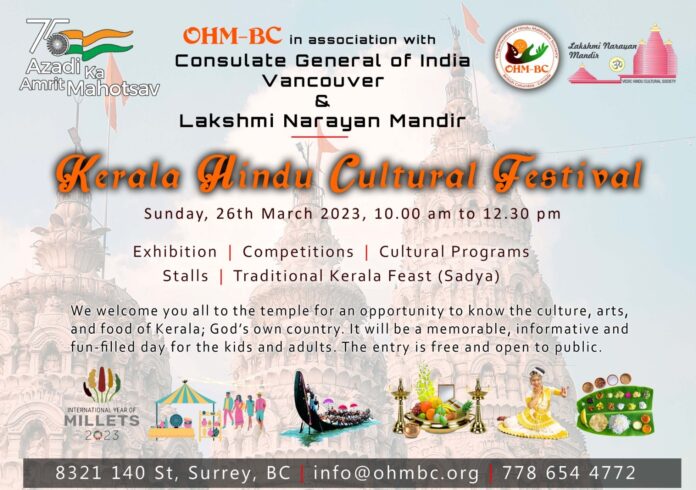 OHM BC is celebrating the 'Kerala Hindu Cultural Festival' on Sunday, March 26 from 8:30 a.m. to 3:30 p.m. in association with the Consulate General of India in Vancouver, BC-India Business Network (BCIBN) and the Vedic Hindu Cultural Society (Lakshmi Narayan Mandir) at Lakshmi Narayan Mandir, 8321 140 Street, Surrey.
The event will include an opening business session, keynotes, presentations, and an hour and a half of traditional dance and music performances, and kids competitions followed by a grand Kerala feast (Kerala sadya includes 20+ dishes served on banana leaves) for all the members of the public visiting the temple.
Also, there will be an exhibition of the state's art, education, trade, tourism, and culture. More than 900 people are expected to join in this program. This will be a completely free event and open to the public.
We are delighted to invite you to the auspicious day, on 26th March 2023, 08.30 am – 03.30 pm.
The program schedule:
8:30-10 a.m.: Kids competitions
10 a.m.-12:30 p.m.: Opening, business and cultural programs
1-1:30 p.m.: Temple Arati (Pooja)
1:30-2:30 p.m.: Open cultural programs
Sadya/Food starts at 11 a.m.