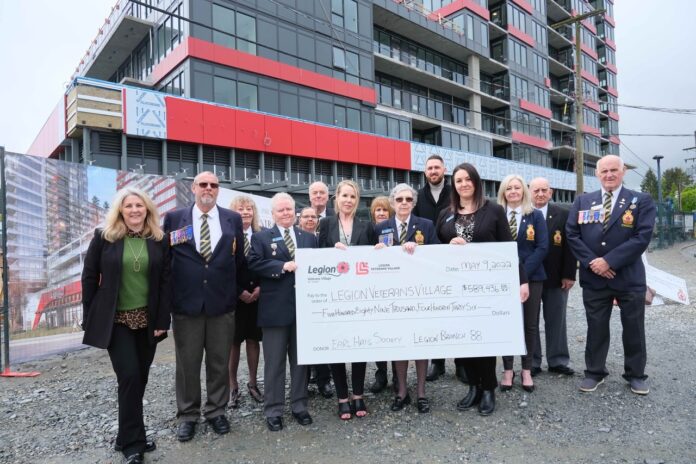 THE Royal Canadian Legion Maple Ridge Branch 88 together with the Earl Haig Society has gifted the Legion Veterans Village Research Foundation (LVVRF) a total of $600,000 to initiate the ongoing mental health, PTSD, technologies and rehabilitation research within the Legion Veterans Village Centre for Clinical Excellence.
The funds ($589,000 plus additional $10,000) will be used to create the LVV Centre of Clinical Excellence within the national clinical research networks. This builds on key federal and provincial partnerships as the newly formed non-profit charitable arm of Legion Veterans Village (LVV) launches a fundraising campaign for the LVVRF. In recognition of their contribution, the Foundation will name the main boardroom at the Legion Veterans Village Centre of Clinical Excellence in honour of the Earl Haig Society.
"We are so grateful to the Legion Maple Ridge branch and the Earl Haig Society for their long-standing work to support veterans and for this generous contribution to the Legion Veterans Village," says Rowena Rizzotti, Project Lead for Legion Veterans Village. "It's because of donations like these that enable us to invest in innovative technologies like the Lokomat, and to advance clinical research studies in the areas of rehabilitation and brain health including post-traumatic stress disorder (PTSD), mental wellness and other neurological conditions that are significantly impacting veterans, first responders and their families."
The Foundation recently established the Centre of Clinical Excellence Leadership Team, comprised of science and clinical experts to lead the mental health, PTSD and rehabilitation clinical services soon to become available to veterans, first responders and their families, as well oversee the clinical research and innovation activities of LVV.
Legion Veterans Village is currently under construction in downtown Surrey and is slated to be completed in late 2022.