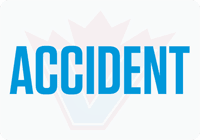 A man is in critical condition in hospital following a single vehicle roll-over collision in south Surrey. Surrey RCMP are investigating.
At approximately 4:53 p.m. on Monday, July 22, Surrey RCMP, Surrey Fire Service, and BC Ambulance Service responded to a single vehicle roll-over collision involving a Dodge 3500 pick-up truck. The collision occurred at 40 Avenue eastbound near 160th Street, when the truck's driver swerved to avoid a collision with the vehicle in front of him, which had slowed down.
The truck drove into the ditch and became partially submerged in water, trapping the driver. The man was extracted from the truck and transported to the hospital in critical condition.
The Criminal Collision Investigation Team has taken conduct of this investigation.
Anyone who witnessed this incident or who has video of this collision, and who has not yet spoken to investigators, is asked to contact the Surrey RCMP at 604-599-0502.