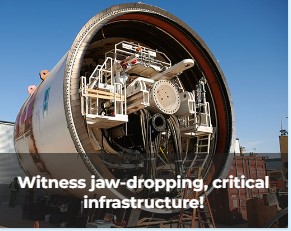 BIG infrastructure, a pop-up park, local musicians, and more await visitors to this year's Metro Vancouver showcase at the PNE. Now in its third year, the 6,000-square-foot showcase provides an opportunity for residents to learn about the services and projects that keep our region livable.
From August 19 to September 4, visitors can explore the Metro Vancouver: Together We Make Our Region Strong showcase, located on the west side of the fairgrounds beside the Forum building.
"We are excited to once again be a part of the PNE, which is more than a summer tradition for residents in our region — it's also economically and culturally important," said George V. Harvie, Chair of the Metro Vancouver Board of Directors, on Saturday. "The PNE provides an excellent opportunity to connect residents with the projects and services that affect their daily lives, while providing valuable information about how they can personally contribute to ensuring our region remains one of the best in the world."
Visitors to Metro Vancouver's PNE showcase will discover the scope and scale of regional infrastructure and services, and can:
Experience the jaw-dropping size of a tunnel boring machine that creates underground water supply tunnels in our region
Learn about the stewardship of regional parks, greenspaces, and water supply areas
Discover how Metro Vancouver's air quality is monitored and protected
Get an in-depth look at the circular economy, local megaprojects, Indigenous reconciliation, and salmon preservation in the Metro Movie Tent
Enjoy the talents of family-friendly live performances including Indigenous artists from across the region on the Metro Vancouver Stage
More information about Metro Vancouver's showcase and a schedule of daily performances is available online.
Entry to the Metro Vancouver activation is free with PNE admission. PNE Fair tickets can be purchased in advance at pne.ca.