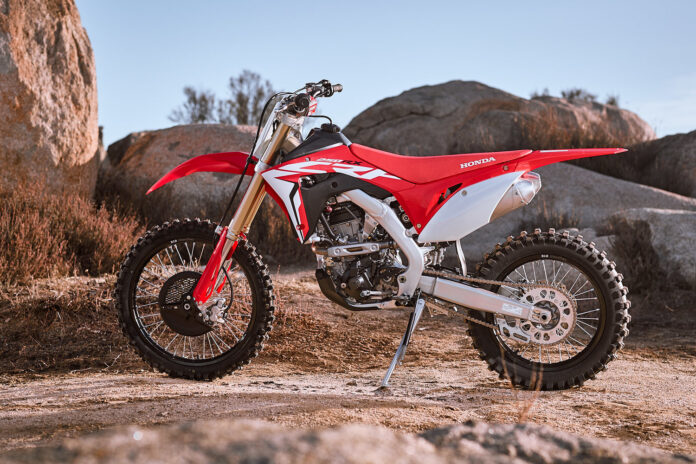 Markham, ON:  The bike raced by Team Honda HRC riders Jett and Hunter Lawrence, the CRF250R, has been completely redesigned for 2022. The new model features a host of engine and chassis changes leading to increased power, reduced weight, and improved reliability making it more competitive than ever.
Since its 2004 introduction, the CRF250R has amassed nine Regional AMA 250SX Supercross titles, including the (2019 and '20 East Region crowns), plus two AMA 250MX Championships. Phoenix Racing has also won the last three AMA Arenacross titles with the CRF250R, with Kyle Peters going undefeated during the 2021 season.
In order to achieve the design goals of increased power and improved durability, the CRF250R's 249cc liquid-cooled, single-cylinder, double-overhead camshaft four-valve engine is significantly updated, boosting low rpm torque is through modification of the air intake, revised valve timing, and a straightened exhaust port with single exhaust header and muffler. Together, the changes deliver a 20% increase in power at 6,500 rpm, while still strong top-end power is retained. The redesigned frame has optimized flex characteristics. MSRP: $9,999. Availability: August 2021.
2022 Honda CRF250RX: For 2022, this bona fide closed-course off-road weapon is new, with the same upgrades as the motocross-focused CRF250R. Those changes, which result in reduced weight, increased low-end power and better durability, are particularly well suited to closed-course off-road series such as the NGPC, GNCC and WORCS—the realms of top teams like SLR Honda, JCR Honda and Phoenix Racing Honda. Making the bike even better suited for those applications, the CRF250RX comes standard with model-specific features such as a resin 7.9 litre fuel tank, dedicated suspension and ECU settings, an 18-inch rear wheel and plastic handguards. MSRP: $10,099. Availability: September 2021.