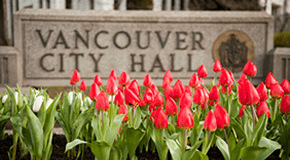 Deadline to submit nomination package is September 14
NOMINATIONS for Vancouver Mayor, Council, Park Board and School Board are now open.
Candidates have until 4 p.m. on September 14 to successfully submit their completed nomination packages at the Election Office, 450 West Broadway.
Avoid delays: make an appointment to submit your package by calling the Election Office at 604-829-2010.
Nomination packages can be found at:
–      Online at vancouver.ca/vote
–      The Election Office at 450 West Broadway, 8:30 a.m. to 5 p.m.
–      City Hall, third floor in the City Clerk's Office, 8:30 a.m. to 5 p.m.
A list of candidates who have successfully submitted their packages will be available in the evening of September 14 at vancouver.ca.
Four races, 27 positions open
In the 2018 Vancouver municipal election, voters will elect:
One mayor
10 councillors
Seven Park Board commissioners
Nine School Board trustees
All offices are held for a four-year term. Voters will also vote on three questions on borrowing for the City's Capital Plan.
Candidates listed in random order on the ballot
This summer, Vancouver City Council and the Vancouver School Board voted to list candidates on the ballot in random order to create a more even playing field.
The random order list will be drawn after 4 p.m. on September 21 and will be widely publicized to Vancouver residents.
The Election Office will release details about the draw, including how to watch it online, on September 14.
Dates to vote
Voters can choose to vote on any of the following nine days in October:
–      Advance voting: October 10 to 17, 8 a.m. to 8 p.m.
–      Election day: October 20, 8 a.m. to 8 p.m.
Locations of voting places will be available at vancouver.ca/vote in mid-September.
Visit vancouver.ca/vote for further details about the Vancouver city election.