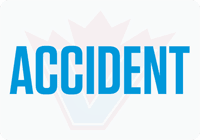 TUESDAY UPDATE:
Surrey RCMP say they are looking for witnesses to come forward to assist in the investigation of the fatal motor vehicle collision which occurred on December 2 at the intersection of 120th Street and 80th Avenue.
The initial investigation has revealed that several bystanders and other motorists provided assistance to the injured parties after the collision.  Police have spoken with some, but not all of these individuals.
Investigators are asking anyone who attended the scene to assist the injured or anyone who may have photographs or video, to please contact the Surrey RCMP at 604-599-0502.
SURREY RCMP say one person is dead after a Honda minivan collided with a Buick sedan at the intersection of 80th Avenue and 128th Street on Sunday at approximately 12:45 a.m.
Occupants from both vehicles were transported to local hospitals. The driver of the Buick, a female in her 30's, was later pronounced dead at the hospital. Two adults and two children are still in hospital with non-life threatening injuries.
Surrey's Criminal Crash Investigation Team and the Integrated Collision Analysis and Reconstruction Service are currently investigating the cause of the crash.
Surrey RCMP are asking anyone who witnessed the collision or has dashcam footage of the collision to call them at 604-599-0502 or Crime Stoppers in reference to Surrey File # 2018-178152.