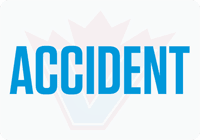 AT 7:20 p.m. on Thursday, Coquitlam RCMP responded to a collision involving a grey SUV and a black Dodge Durango on Schoolhouse Road near Lucille Star Drive. One person was pronounced dead at scene, while two people were taken to hospital with serious non-life threatening injuries.
The RCMP's Criminal Crash Investigation Team will process the evidence. The investigation is still in its early stages and no further details will be released at this point.
As a result of the incident, both northbound and southbound lanes on Schoolhouse Road between Booth Avenue and Lucille Star Drive will remain closed.