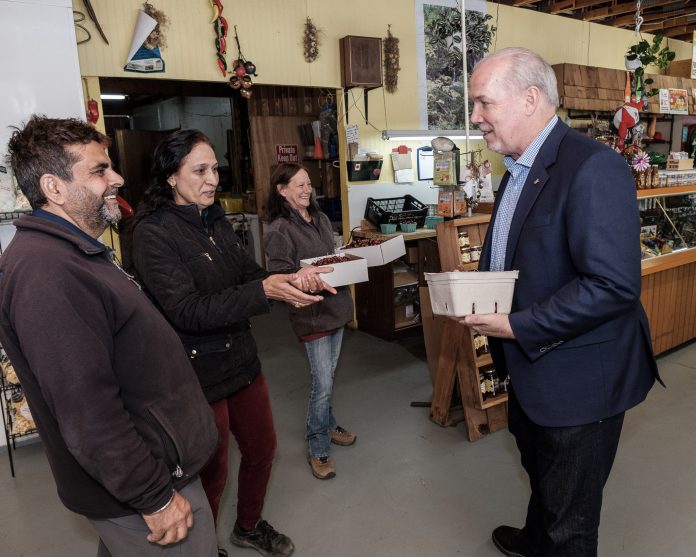 [responsivevoice_button voice="UK English Female" buttontext="Listen to Post"] 
BY PREMIER JOHN HORGAN
ON my trip to the Okanagan in June, I stopped by Mariposa Farms fruit stand to buy some cherries. The owner, Kulwinder, has been farming in the Similkameen Valley since 1987. Every box of B.C. cherries or bag of locally grown apples she sells helps support her family and the families of her employees.
We're helping farmers like Kulwinder so they can keep creating good jobs in B.C. and growing the high-quality, local food we depend on.
Farmers and ranchers are essential to our communities. They are important to B.C.'s food security, and they support a strong and sustainable economy. That's why we are working to protect B.C.'s farmland, encouraging new farmers to bring farmland into production, and developing new markets for B.C. agricultural products.
We're providing real opportunities to B.C.'s farmers and ranchers to grow their agricultural businesses, while also welcoming the next generation of B.C. farmers in communities throughout the province.
Through programs like our new Land Matching Program, we're helping more people start farming by connecting new and young farmers with landowners around the province who want to see their fields in production.
To help keep farmers farming, we're driving innovation and supporting producers through the challenges they face. We're supporting tree fruit producers and processors to plant new, in-demand varietals, update equipment, and expand their marketing and research efforts. We're helping hazelnut growers replant with more resilient trees and expand their operations.
In early July, we created a new Food Security Task Force to find new ways to use technology and innovation in B.C.'s agriculture sector. The Task Force will find new opportunities to help farmers enhance productivity, increase competitiveness, reduce waste and improve access to quality, healthy food for all British Columbians.
We've passed legislation to increase the independence of the Agricultural Land Commission (ALC) and give it the tools it needs to support farmers and ranchers in every corner of B.C. This will stop the construction of mega-mansions and illegal dumping of garbage and construction waste on pristine farmland. It will also stop big developers from driving up the cost of land and support multi-generational farming families.
At a time when produce travels an average of over 3,000 km, buying from our local B.C. farmers is the better choice for both the economy and the environment.
Buy BC is helping farmers and producers market their products to reach more people looking for made-in-B.C. products. We've also kicked off a Feed BC pilot program to increase the amount of B.C. food in our hospitals. Feed BC also includes the launch of a food hub network to support B.C.'s growing food processing sector, with the first hub operating as a pilot in Vancouver.
As we head into the end of summer and get closer to back to school, there is no better time to hit your local farmer's market or produce stand. Get to know your local farmer or food producer. Local food on the table means fresher and tastier meals, because B.C. grown products really do taste better.