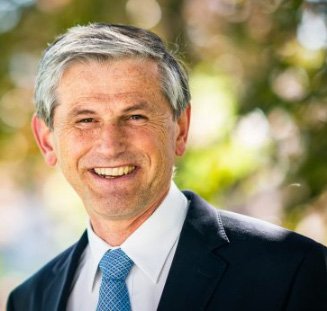 BY ANDREW WILKINSON
BC Liberal Party Leader &
MLA for Vancouver-Quilchena
IN 2017, John Horgan and the NDP made promises to the people of Surrey that he has clearly been unable to keep. This week marks two years since John Horgan promised Surrey families that he would eliminate school portables, make ridesharing fair competition for taxi drivers, and generally make life more affordable for British Columbians. He and the NDP have failed to follow through on every single one of those promises.
Affordability has been a key issue in British Columbia and especially in Surrey. As families face difficulties making ends meet, John Horgan chose to introduce 19 new or increased taxes. While drivers are paying the highest gas prices in North America, John Horgan chose to do nothing but commission a sham investigation that can't examine taxes and supply – the two things he directly controls. These high gas prices are impacting everyone, from independent trucking businesses right down to the family trying to get their kids to soccer practice. People deserve answers from their government, not excuses and deflections like we see from the NDP.
Housing construction is down, meaning families in Surrey looking for a home to buy or rent are out of luck. Not only are there no incentives for anyone to keep building, the lack of available housing is hurting renters and further harming affordability. If you are fortunate enough to own a home for your family here in B.C., you will have likely seen the value of your property decrease thanks to the burden that NDP taxes have placed on the real estate market. Not only is the housing affordability crisis not being solved, John Horgan is actually making it worse.
Those in Surrey and the Lower Mainland who make their living driving a taxi have been left in limbo for over two years while the NDP plays politics with ridesharing. Rather than making good on their promise to create a system that is fair for both taxi drivers and ridesharing drivers, John Horgan and the NDP have stacked the deck and created a messy framework that leaves everyone unhappy, divided, and questioning if they'll still be able to make a living and provide for their families.
When it comes to priorities, John Horgan and the NDP are clearly more interested in filling their government bank accounts with your tax dollars than following through with their commitments to the people who voted for them. Despite promises to eliminate school portables in Surrey, the NDP has not only kept the existing ones but has actually added more. As of this year, there are over 350 temporary classrooms in Surrey and John Horgan doesn't seem to have an answer as to how his government managed to break a key promise to families and their children.
After two years of NDP taxes, inaction, and broken promises, British Columbians are fed up with the lack of results. Here in Surrey, affordability concerns combined with hypocrisy surrounding eliminating portables and a completely botched ridesharing plan have left hard-working British Columbians wondering whether they can afford another two years of John Horgan and the NDP. The BC Liberals will be working hard this summer listening to the people of Surrey and the rest of British Columbia. If John Horgan and the NDP won't keep their promises, we won't let them off the hook.